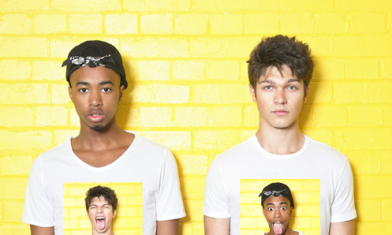 Tyler N Stevie met in high school. Tyler likes Sublime and Sum 41 while Stevie counts Kendrick Lamar and Lauryn Hill among his primary influences. Their offbeat and refreshing approach to performing and writing music is the result of the collision of these styles.
Collaborating resulted in their first song 'Her Boyfriend Don't Like Me', which found it's way into the hands of a couple of pretty senior record execs. Since then and thanks to some excellent songs and of covers on their Youtube channel the future looks pretty exciting for the young pair.
The boys are now living between London and their New Jersey home while they write, record and pick up fans. We caught up with Tyler N Stevie so they could tell us what they're up to in their own words.
How long have you been playing together?
S-we have been playing together for just over a year. But wrote and performed our first song in 2011.
How would you describe yourselves? Are there any artists you're similar to?
T-We kinda have this unique sort of Rock and Rap thing goin on and fuse it with other different genre's like Reggae or some other influences depending on our moods.
S-well I would have to go with The Fugees and Childish Gambino
T-And me well I'm all about Sublime and fall out boy (among others.)
S-Yeah and we kinda rolled up all these different influences into one Genre. That's us Tyler N Stevie
Tell us the most embarrassing story you can think of about each other.
T-Stevie and I were checkin out this hot girl from behind and it turned out to be a guy with real long hair. Don't spread that around! I guess we share our "most embarrassing moment."
Who or what are your biggest influences?
T-Well our greatest influence is our sincere love for music and the unique way it allows us to express ourselves.
S-Yeah and of course those artists that have meant the most to us and have impacted our lives in different ways. The same way we want to impact and influence those that enjoy our music.
If you were stranded in space what three things would you bring to keep you entertained?
T- I would have to go with Oxygen, My Guitar and Ariana Grande. Not Necessarily in that order.
S- easy: X Box, Baltimore Ravens Cheerleading squad and a Rocket ship so me and Ty can come visit earthlings.
You've made your mark on a lot of other artists' songs. Which artists would you most like to work with, (alive or dead)?
T- oh man, I'd have to say Kurt Cobain of Nirvana and Brad Nowell of Sublime. Both dudes are dead cause they couldn't get their arms around their own personal problems but were both geniuses in their own right.
S-I'd Have to with Michael Jackson…no explanation needed. King of pop and quite possibly the greatest all around entertainer of all times!
What do you have coming up over the next few months that we should watch out for?
T-We have been working in the studio with some amazing Songwriters and producers with affiliations to all the major publishing houses, putting together a cache of new music. We have been in talks with a certain company about a Record deal although nothing has been inked as of yet and we plan on coming back in late June or early July to the U.K. for a small tour. Sorry we can't give more details at this time but The music biz is like Black ops…we can't give names or locations but trust us, shit is goin down!
You can follow Tyler N Stevie on Twitter @TylerNStevie