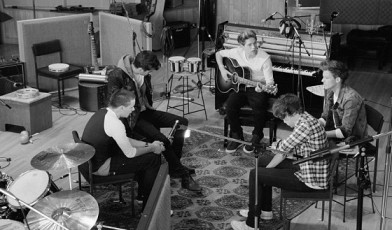 One Direction's Harry Styles, Louis Tomlinson, Niall Horan , Zayn Malik and Liam Payne fancy their chances as songwriters and have signed huge publishing deals, which will see them earn big for having a credit on their own material.
A source told The Sun: "This is a real statement of intent from the band. They have absolutely no intention of being spoon-fed pop puppets. They want to write and they want to earn as individuals."
The boys have been attending writing new songs during their current tour and on their latest 'Take Me Home' album they have three songs with individual writing credits.
The 'Little Things' hitmakers are working with Fingate – who also cash in on Elvis Presley's back catalogue, and also work with Britney Spears, Black Eyed Peas and Foo Fighters – and they will receive more cash when their music appears on compliations or is used in adverts.
Last year they had earned £100 million in two years since they competed on 'The X Factor', and had earnt an estimated £200 million for their management.
They will be raking in even more cash thanks to their new fragrance 'Our Moment'.
Harry tweeted: "The 1D fragrance is called (drumroll)… Our Moment! And it smells like a summer's day."
Niall added: "I've tested it on my family and they love it — and we can't wait to show it to our fans across the world."
Our Moment will be on sale in Harrods from August 24.