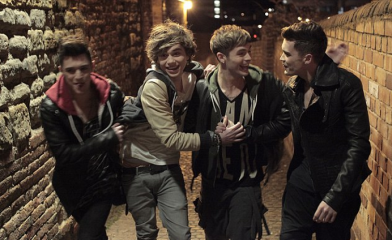 It's been less than a year since they were formed during X Factor 2012, but four-piece Brit boy band Union J have already released their debut single 'Carry You'. . . Is it too soon to swoon – to swooon – to swoooon?
Not according to their nearly 1 million dedicated Twitter followers, almost 2 million views of the song's music video on VEVO and what looks to be an easy climb into the UK Top 10 or higher in their first official chart week. Get your swoon on, girls! (And boys?)
It all goes to show what wonders can happen when a boy band and their behind-the-scenes team do their homework properly from the outset. When fate brought Josh Cuthbert, Jaymi Hensley and JJ Hamblett of Triple J together with George Shelley, somebody somewhere had the "Boy Band Formula Tick-List" to hand and followed it religiously – but luckily always with a keen eye for a fresh twist too:
• #1: Assemble group using tried-and-tested girl fantasy stereotypes: soulful dreamboat, bad boy, innocent baby-face, solid older brother, shy guy, muscly hunk, heroic do-gooder. TICK!
Twist: Avoiding the traditional 5-piece structure of New Edition, NKOTB, Backstreet Boys, Take That, 'N Sync, 5ive, Boyzone and Westlife, Union J is a more unusual 4-piece. Precedents are fewer – East 17, 98 Degrees, Blue, reunited Take That pre-Robbie return, JLS – and the decision is riskier. Like a mixed garden or fruit salad with fewer ingredients, each ingredient needs to be that much better. But then again, how else to quickly distinguish yourself from current reigning princes The Wanted and One Direction?
• #2: Create an achingly desirable, easy-on-the-eye visual brand. TICK!
Twist: Not happy to settle with One Direction's cute retro-preppy look or The Wanted's more adult, dark-toned casual appearance, Union J have gone all the way and practically created a clothing line of their very own. Think Hollister meets Jack Wills by way of Next, and the boys would be the star catalogue models. The "Union J" script itself is an ingenious clothing logo waiting to happen. And don't get me started on the hair! Josh even has his hair styled in the music video. Has Toni & Guy called yet?
• #3: Compose a debut single with ubercatchy chorus and universally-relevant but meant-just-for-you-alone lyrics. TA-TICK!!
Twist: Instead of the stadium tub-thumping of One Direction's debut 'What Makes You Beautiful' or The Wanted's symphonic melodrama 'All Time Low', 'Carry You' is a sweet, upbeat ditty – memorable but not overbearingly insistent. Written and produced by pop guru Steve Mac, the song is about helping each other out during tough times ("When the vision you have gets blurry / You don't have to worry, I'll be your eyes / It's the least I can do, cause when I fell, you pulled me through") and thereby marks a contrast with the usual boy band subject of love, love, and more love. Could it be that Team Union J are thus hoping to include a younger, less lovelorn pre-teen market?
At any rate, listening to each boy's obligatory solo (with only one duffly sung verse – no, I won't say who, I don't fancy death-by-fan!), the driving piano chords and soaring synths, cutesy "yoooou"s and "yeah, yeah, yeah"s, you know you are in the presence of a boy band masterclass. Will Union J be "carried" through in the end? Only time will tell. But for now, I think this one's in the bag, boys!
(Final query: Will the clothing range feature the band's logo and a Union Jack? Am I crazy or is this a missed opportunity?!)
Watch Union J 'Carry You' video below:
Download Carry You from Amazon here:
Or on iTunes below: