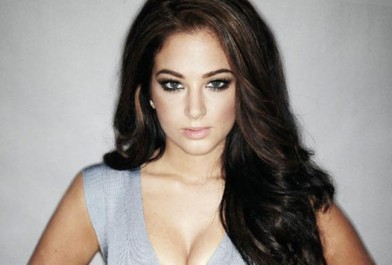 Tulisa is to be questioned by police after she was caught setting up an £800 cocaine deal during an undercover investigation.
The 24-year-old former X Factor judge allegedly arranged for her friend to supply half an ounce of the Class A drug to an undercover reporter from The Sun newspaper.
A Scotland Yard spokesman said: "We have received information concerning the alleged supply of illegal drugs. We are considering the information received."
The singer kept a low profileat her £6 million Hertfordshire home yesterday where A police car was spotted arriving. N-Dubz bandmate and cousin Dappy Contostavlos was also spotted arriving around mid-afternoon, hiding in the back of a red car.
During the taped investigation, Tulisa claimed she could source drugs from friends, boasting: "Half my phone book sells it. Of course I can get it for you.
"Half the guys I know are drug dealers. One's a massive cocaine dealer. He's my best friend.
"We talk in lingo. Like we know what. I can't call him and go, 'Have you got any?' I'll say, 'Hi, have you got any sweets?' … And I'm referring to what he knows is what. Like we have a whole lingo."
When the journalist promised to keep the deal a secret, Tulisa joked: "I don't think it would sound too good if Tulisa was off finding white sweets."
The publication has passed its findings onto the police.
Dappy later Tweeted: "These scum simply can't handle the fact the we made something out of nothing! We'll be back with a bang!"