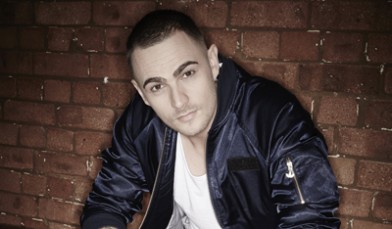 London singer-songwriter Charlie Brown had a Top 10 hit with his debut single 'On My Way'. Having previously worked as a songwriter he is now enjoying widespread acclaim and popularity as a performer. His second single, 'Floodgates', is out 21st July. Pop Scoop! caught up with him during a rare moment of downtime so he could tell us more about it.
Tell us about your new single 'Floodgates'.
I wanted to follow up 'On My Way' with another song that people could relate to and relate the things they were going through to the song. We kept it quite open for that reason. I wanted to write a soulful pop record but something a bit meaningful at the same time.
What's the record about?
It wasn't one specific scenario, I just wanted to write about not bottling things up, not letting things get on top of you. What I heard from fans about On My Way is that they related to it on a very personal level so I wanted to write something that was on my mind and something meaningful.
You've been compared to The Script and Plan B. Are there any artists that influenced the music and production on the single?
No I don't think so, I never really use other artists as templates or inspiration, no one really current anyway. I really love Stevie Wonder and all the old Motown acts but that wouldn't have affected the production now. For the producers it's important to know what vibe I want and emotion I want and we work it out together.
I know the video's just been debuted. Tell us a bit about that.
We shot the video in Spain, which was cool because all the shoots I've done so far have been in the rain in London! The beach was right outside the hotel we were staying and we had a few really amazing locations up in the hills and with some old ruins. We did the flashback shoots in those locations. It was amazing just to be in a different country recording the video in the sun, it was a great experience.
Is there a particular person or audience that the single will appeal to?
I want to make music that everyone can enjoy that doesn't discriminate against anyone and isn't just for one type of person. I love hearing feedback from the songs from kids and their parents, fans that met me on tour. I get messages from their mums! Having that reach and span is something that I love.
It's what all good pop music should do. So far how have the song and video been received?
The response has been amazing. I love how instant it is with Youtube, you know instantly whether people like it or not. People have been saying it's a great follow up to 'On My Way', it's just been so positive. When you put things out you never know how people are going to feel but it's been really good.
I know you've recently supported Craig David and Dappy asked you to join him on his tour. What are some of the best or most memorable live shows you've done so far?
We finished the UK dates for the Craig David tour at Indogo2 and that's probably one of the biggest crowds I've performed for. Also now that 'On My Way' has been out the crowd are singing the lyrics back for the first time. That was amazing, now that people know who I am a little bit more they're really engaged and singing the lyrics. Hammersmith Apollo on the Dappy tour was also amazing.
You're doing a lot of festivals this summer, we'll be at most of them! Which festivals can fans catch you at?
I'm doing Isle of Wight Festival and Wireless on the Sunday, I'm also opening up for Rita Ora at Newbury Racecourse and doing Capital Summertime Ball. I'm performing alongside JLS and some other great acts at the Rays of Sunshine Charity event at the Royal Albert hall. Then there's Sundown 2013 in Norwich and then there's All Starz Summer Party in Reading. It's going to be an excellent summer!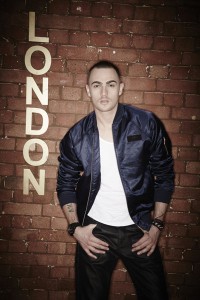 Would you say music is better now than it is 20 or 50 years ago.
I don't know, I 'm not someone who's negative about the music industry and I think there's a lot of brilliant artists out there. I think it's an exciting time to be an artist, especially a British artist because British artists are doing massive things around the world, more so now than probably ever, besides the Beatles! I think I miss some of the live more organic sounding music that used to be around. Obviously it's more electronic now, which can be great and I'm a huge fan of tracks like that, but I do think nothing beats live musicians and organic grass roots stuff.
What records are coming out this year that you're excited about?
I'm excited to see what Miss B does, I think she's going to be a really interesting artist. I'm a big fan of Jessie Ware. I did a cover last night of Jessie Ware and Frank Ocean, I mashed two of their songs together. I'm looking forward to seeing what those two do next.
What's the best piece of advice anyone's ever given to you?
There's a producer called RedOne and he told me years ago that it would take nearly 10 years to put a record out and that I should stick with it and keep the faith even when I didn't want to, that I had to be in it for the long game. That turned out to be some of the best advice I ever had.
I know that you've worked in a couple of areas of the music industry. You used to be involved with songwriting and production. Tell us a bit about that.
I got signed as a songwriter in 2003. That was my first opportunity to be in the studio with artists and have access to different producers and travel and create music on a daily basis. I loved that grind, I still write songs and pitch them to projects all the time. I loved it and I still do. I just wanted to have the opportunity to be an artist as well.
Do you think having that experience of songwriting puts you in a good position as an artist, having that experience that other artists don't necessarily have?
I think so definitely. Being behind the scenes and meeting producers every day and writing with them put me in a good position when I got my record deal. I knew who I loved and wanted to write with, who I didn't want to work with and what sort of sound I wanted and I just felt really ready to go. I think that was thanks to my writing background.
Your last single was a top ten hit and seemed to resonate with a lot of people, maybe because it seemed very personal. Are all of the best songs about heartbreak?
That is a really good question! If Amy Winehouse and Adele are anything to go by then I'd say yes! I don't think it's necessarily heartbreak, I think the best songs are born out of a raw emotion and when you write songs it tends to be negative emotions that come out more. I think if any song was written in any kind of raw moment whether it's happiness, love or heartbreak that's when the magic happens. That's when the best songs are going to get written.
Tell us a secret!
I don't know if it's much of a secret as I think I've mentioned it in other interviews but a few years ago I was signed by a label to record a rap album because they'd heard a guide vocal on a demo I'd recorded for somebody else. So I recorded half a rap album in Atlanta once. That's pretty secret!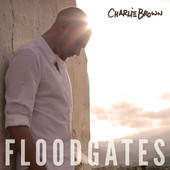 'Floodgates' is out on the 14th July and can be pre-ordered on iTunes HERE