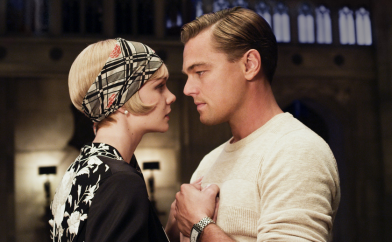 Cert. 12A, 143min
Directed by: Baz Luhrmann
Starring: Leonardo DiCaprio, Tobey Maguire, Carey Mulligan, Joel Edgerton, Isla Fisher
"Do you think it's too much?" "I think it's what you want." Baz Luhrmann's new adaptation of 'The Great Gatsby' is the filmic equivalent of the 14-course tasting menu at Heston Blumenthal's Fat Duck restaurant. While you may dismiss it on the grounds of personal taste, it is impossible to deny the sheer exuberance and opulence before you and the meticulous craft and mastery of form that it took to prepare. Reject it if you must, but understand that you will miss a shining example of what unconstrained artistic vision at the top of its game can currently achieve in mainstream Hollywood film.
The Story
'The Great Gatsby' is the fifth film to be based on F. Scott Fitzgerald's classic novel, following a now-lost 1926 silent version, a 1949 noir picture, the 1974 big budget Robert Redford and Mia Farrow starrer, and a 2000 TV-movie.
Set in the Roaring 1920s of NYC and Long Island and told from the perspective of newly arrived Nick Carraway (Tobey Maguire), the story is about his neighbour, the mysterious self-made millionaire Jay Gatsby (Leonardo DiCaprio), who tries to win back the love of his estranged former flame Daisy (Carey Mulligan), now married to the rich, cheating brute Tom Buchanan (Joel Edgerton).
The film is not completely faithful to the original text, but instead uses it as a central melody with which it then makes jazz improvisations in the key of Baz. Luhrmann and co-script writer Craig Pearce make a few book-to-screen narrative changes, most significantly the framing device of Nick writing the story years later as part of therapy sessions in a sanatorium. Purists will of course blast such alterations as undermining Fitzgerald's work, but they are better understood as serving to shape the plot and emphasise particular themes in order to recreate the signature Luhrmann story: a melodramatic quest for pure, eternal love at any cost, and/or a journey of self-reinvention fuelled by the insatiable urge to achieve one's wildest dreams. It is no accident that 'Moulin Rouge!' is framed with very similar scenes of male protagonist Christian typing out his tale.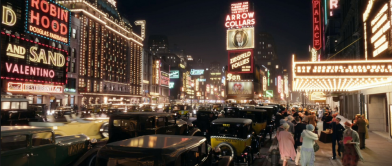 The Look
Central to all Luhrmann's previous films, particularly those of the 'Red Curtain Trilogy' ('Strictly Ballroom', 'Romeo + Juliet', 'Moulin Rouge!'), is the creation of a complete visual world which serves to heighten the story's drama and emotion through ambiance and tone. From the very beginning of a project, Luhrmann and his constant collaborator (and wife) Catherine Martin, who acts as production/costume designer, collect visual references and ideas into "look books", gradually establishing the style and design of the film.
Particular objects are selected which through constant repetition, will become symbols and icons, visual shorthand for the film's themes: 'Romeo + Juliet' has a giant, concrete Jesus statue, burning sacred heart, and beach stage set; 'Moulin Rouge!' has the "Love" sign, stucco elephant and red windmill; 'The Great Gatsby' has the pulsating green dock light, optician's billboard, party fireworks and yellow Duesenberg car.
The visual world of 'The Great Gatsby' is an amped-up, frenetic version of the 1920s, intended (according to Luhrmann) to convey to modern viewers what it must have been like to live in a time of such incredible change and vibrancy. Its look is a glittering hyper-Art Deco treasure chest brimming with the sparkle of crystal, the sheen of polished hardwood and the gleam of auto metals.
Architecture and furniture are authentically shaped by serpentine lines, the lighting is mainly high-key, and the colour palette is one of gold, silver, chestnut brown, white and cream, dashed with bursts of rich, saturated primary reds, yellows, greens, and blues.
The costumes, which were designed in partnership with Miuccia Prada and Brooks Brothers, are equally exaggerated takes on period fashion, featuring the full gamut of flapper drop-waist dresses, feathers, cloche hats, sequins, pearls, tuxedos, suspenders, and spats.
This cocktail of imagery is further enhanced by the flashiest film tool currently available: 3-D. Over the past decade, the 21st century version of 3-D technology has exclusively been employed in action, sci-fi or animated blockbusters. 'The Great Gatsby' however, is the first time it has been used for a "regular" drama – and in the hands of Luhrmann and cinematographer Simon Duggan it is a true revelation! As soon as the 2-D studio logo on mock grainy and distressed B&W film stock turns into a 3-D, ornate golden Art Deco frame which recedes before our eyes, beckoning us to plunge towards a blinking green light in the distance, it is clear that 3-D is not only working to dazzle, but more importantly to breathe hyper-real life into a world that appears to surround us.
There are many stand-out 3-D moments: enhanced period newsreel, white drapes billowing around a reclining Daisy, floating type and handwriting, hurtling car rides through NYC streets. However, the most significant way 3-D aids the storytelling is in the many bird's-eye views of the geography of Long Island and NYC, through which all locations and their spatial interrelationships are continuously revealed. As the camera swoops down or across towards another setting and its scene and characters, one is reminded of Luhrmann's background in opera, where sets often change via a rotating stage. Ultimately, 3-D is used with such skill that by the halfway mark it ceases to be noticeable; we have simply grown accustomed to true deep-perspective – peering around garden hedges, ducking under door frames, and instinctively flinching when people crowd us into corners.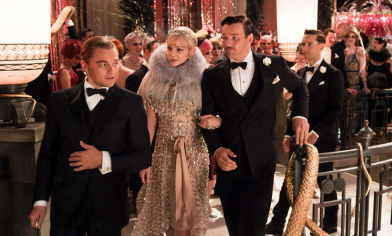 The Music/Score
As with 'Romeo + Juliet' and 'Moulin Rouge!', the music of 'The Great Gatsby' is an anachronistic party mega-mix of musical genres. Produced by Jay-Z (alongside a classical score by Craig Armstrong), the list includes rap/hip-hop, indie rock, pop, electronic dance music, jazz and swing.
According to Luhrmann, the freshness of the contemporary songs is intended to mirror the new feeling and vibe jazz had in the 1920s. The multiple covers and reinterpretations on the soundtrack also hark back to the way in which 1920s dance music liberally adapted and transformed classical pieces, operettas and folk tunes.
One can only assume that were Jay Gatsby to have had these modern acts at his disposal, he would definitely have booked the uber-hip likes of Jay-Z, Lana Del Rey, Jack White, Gotye and The xx for one of his decadent parties! Stand-out songs include: Lana Del Rey's 'Young and Beautiful', which fittingly captures the melancholic and dreamy mood of much of the film and is used as Jay and Daisy's love theme (like 'Kissing You' by Des'ree was in 'Romeo + Juliet'); Beyoncé and André 3000's frankly bizarre and creepy 'Back to Black' cover; will.i.am's EDM update of the Charleston, 'Bang Bang', which super-charges the first party scene.
The complex layering of musical tracks also acts as an aural match to the 3-D visuals. For example, in the underground speakeasy scene, Jay-Z's hip-hop rap '100$ Bill' blends into a jazz version of the song, followed by a piece of score, back to Jay-Z, then to traditional jazz by the Bryan Ferry Orchestra, each quoting from and bouncing off each other, creating a tangible, music historical space.
The Acting
While pure spectacle and sweeping emotion are crucial elements of 'The Great Gatsby', quieter moments offer the actors space to truly flesh out their characters. Both principal and supporting roles are well-cast, and the actors are uniformly able to perform the tricky tightrope act Luhrmann typically demands of them, switching seamlessly from slapstick comedy to melodrama or naturalistic emotions – often within the same scene.
Leonardo DiCaprio strikes a welcome and role-appropriate balance between grinning boyish innocence and mature, wily mysteriousness, with occasional flashes of disturbing menace and manic obsession. His entrance has a touch of Orson Welles in 'Citizen Kane' about it.
Tobey Maguire tackles the task of unreliable narrator efficiently. By turns awkward, awed, and sympathetic, he is the viewer's eyes and ears. His only somewhat unconvincing scenes are those in the sanatorium, but this is most likely due to their shortness.
Carey Mulligan manages to imbue the difficult role of Daisy with real substance. Rather than merely be the beautiful, unfathomable object of Jay's affections, she makes Daisy's choice between husband Tom and old flame Jay palpably heart-wrenching. For at least a few moments, we stop thinking about Gatsby and worry about her – and that's a tall order.
Joel Edgerton is fittingly proud, pompous and unpleasant, but like Mulligan is also deftly able to offer insight into Tom's love for Daisy, making the climactic confrontation all the more engagingly complex.
Elizabeth Debicki (as Daisy's best friend Jordan Baker) and Isla Fisher (as Tom's mistress Myrtle Wilson) look and sound period-perfect, although unfortunately far too briefly, as their characters' screen-time has been much reduced.