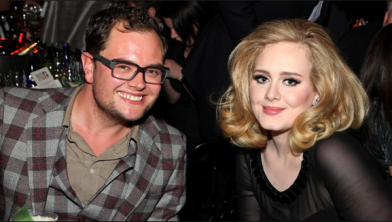 Alan Carr has been honoured with the role of godfather to Adele's seven-month-old son Angelo James.
Adele and fiancé Simon Konecki picked the TV talk show host for the role ahead of her good friend Sid Owen, best known for his role as Ricky Butcher in soap 'EastEnders'.
A source told The Sun: "It was a toss-up between Sid and Alan for the godfather role and technically kids can have more than one godfather if the parents want.
"But even though the talk was that Sid was frontrunner, Alan's been told by Adele he's the godfather because he does so much with her and her new family. He's stayed over at her house in London and gone to gigs with her as well as on long walks."
Being godfather comes with serious resposiblity should anything was to happen to the couple.
The source added: "It means if anything happens to Adele and her partner Simon, he'll have a big part to play in Angelo's life.
"And if Adele's thought far ahead, Alan's likely to be named in her will as a potential guardian along with her mother Penny."
Adele welcomed son Angelo James into the world last October.