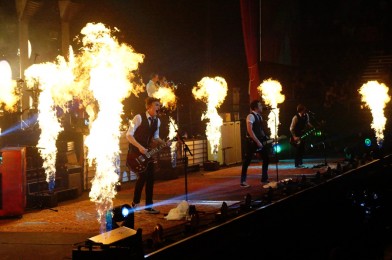 After being on tour for a month across the UK, I was lucky enough to catch "Best of McFly Tour 2013" yesterday (18th May), on the last day of the tour for my first ever McFly experience.
Everyone thinks we don't need to introduce McFly anymore, but actually we do… I have to admit that before that tour, I had heard of those four English crazy guys, but that I've never had a listen to their songs. Tom Fletcher, Danny Jones, Dougie Poynter, and Harry Judd, are the four lads that had been in McFly since summer 2003. Since then they released five studio albums, and had seven number one hits!
Going to that final show in Wembley, without knowing any of McFly's song is a bit of a risk… but it was absolutely worth it!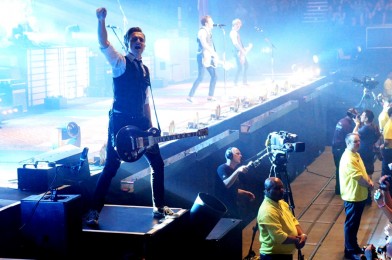 After seeing James Bourne (Busted) playing a few songs, and The Vamps (new cool band that we'll hear a lot about in the next few years), McFly arrived on stage singing "Memory Lane" A Capella. It was absolutely beautiful, and it was just the beginning, as the curtain fell, and "That Girl" started, sparkles lighted up the stage. The boys played a lot of songs from all their albums as the crowd was going crazy. After pyrotechnical effects during "Lies"  Dougie and Harry left stage to leave us with Tom on the piano and Danny on the guitar for "I'll be OK", as "Bubblewrap" followed and a waterfall of sparkles fell on the stage, Dougie and Harry came back.
Fire, sparkles, and even confetti at the end of the show, but beside that and that wonderful stage set, the show was simple, and Dougie, Tom, Harry and Danny were acting like a bunch of normal guys by putting up some funny hats, telling stories about the band like how Tom wrote "Bubblewrap" (by being seated on the toilets in Disney world!),  or "disco-dancing" like Danny, and doing the snail like Dougie.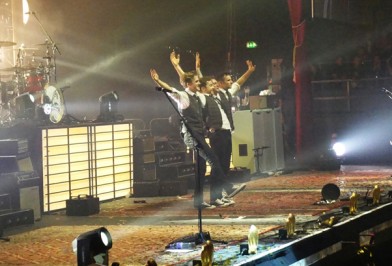 Along the show, the guys said how happy and grateful they were to still be on stage, after almost 10 years, and still having a lot of fans following them, and I know they truly meant it. And to be honest with you, seeing them for the first time, even though it's been 9 years for them, felt like it was one of their very first shows, just by the energy, fun, and simplicity of the show.
If you haven't seen them live, there's only one thing left to do: buy tickets for their 10 years anniversary show at the famous Royal Albert Hall on the 19th and 20th of September. Tickets go on sale this Saturday 25th of May!
Full set list:
Memory Lane
That Girl
Star Girl
Transylvania
5 Colours In Her Hair
Falling in Love
Room on the 3rd Floor
Obviously
Corrupted
Nowhere Left to Run
Lies
I'll Be OK
Bubblewrap