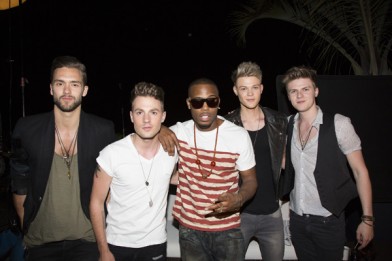 Lawson's new single 'Brokenhearted' featuring US singer-songwriter/rapper B.o.B. was given its first play today and fans have been praising the track across Twitter all morning.
The track, which was written by lead singer Andy Brown and recorded in London, will be released in the UK on July 7th.
On the track Andy said, "Brokenhearted is definitely a bit of a turning point for us as a band. It's my favourite song we have recorded to date. It was a dream to get B.o.B on the track. The whole band are huge fans of his. He really took the song to the next level and we had a great time shooting the video with him."
The video for 'Brokenhearted' follows a mystery female in her mission to bury the memory of an ex, climaxing in a performance from the band and B.o.B at a private party in a luxury house in the Hollywood Hills. The video was directed by Declan Whitebloom.
Lawson released their debut album 'Chapman Square' in October 2012, with it going straight in to the top 5 in the Official Album Chart and quickly achieving Gold status. The band have had three top 10 singles, selling over half a million singles in the UK and sold out four UK tours, culminating in their biggest solo UK show to date at the Shepherds Bush Empire in March 2013. The band have also sold out a number of shows in the US including venues in New York and Los Angeles.
Lead singer Andy Brown also scored a Christmas Number One with his involvement in the Justice Collective's version of 'He Ain't Heavy, He's My Brother'. The song raised money for various charities associated with the Hillsborough disaster and Andy performed with the likes of Paul McCartney, Robbie Williams and Melanie Chisholm.
The band have been extensively touring South East Asia and Australia at the start of 2013, they will be returning to the UK to promote 'Brokenhearted' and perform a number of shows including the Capital FM Summertime Ball at Wembley Stadium, Isle Of Wight Festival, T In The Park and many more. A full list of tour dates can be found here. Lawson will be announcing a fifth headline tour shortly.

'Brokenhearted' is available to pre order on iTunes HERE.