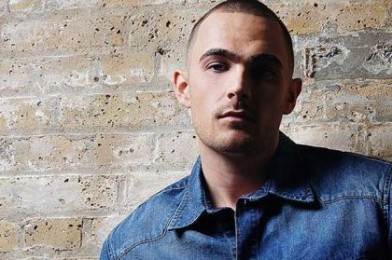 After celebrating becoming a Top 10 star with his first official single 'On My Way', Charlie Brown is set to continue storming the chart with his new single 'Floodgates'. And it should see the singer songwriter climb even higher.
'Floodgates' will be followed by the release of Charlie Brown's highly-anticipated debut album Dreamstate late this summer. As with 'On My Way', it has commercial pop appeal, while displaying his classic songwriting – irresistible hook-driven melodies and a soaring singalong chorus – and those incredible pop vocals with a serious soul edge, explaining why he's been likened to artists from Plan B to The Script.
It's no run-of-the-mill love song. "People can relate it to many different things," Charlie says. "It's about not holding everything in and letting it out, opening the floodgates and not being afraid of what you're feeling at the time."
'Floodgates' which Charlie co-wrote continues to highlight why the singer songwriter is finally stepping out from behind the scenes as a performer in his own right after crafting songs for some of the biggest names in music.
Throughout his musical journey he has written hits with the likes of Wiley, Frank Ocean, Jay Sean and The Script as well as high-profile hitmakers Fraser T. Smith (Adele, Ellie Goulding), RedOne (Lady Gaga, Nicki Minaj, Usher) and FutureCut (Lily Allen, Wretch 32, Rizzle Kicks). All that graft over the past decade means that he has been able to really hone his craft.
Raised on a rich diet of Motown and 90s soul, it's thanks to the strength of Charlie's soulful songwriting that he signed to AATW/ Universal. His songs landed on the desk of Rich Castillo, who was previously involved in N-Dubz's career and is now A&R at AATW. Having followed Charlie for years, as soon as Rich joined the label, he signed him the next day and the rest is history.
Hailed by Red Pages, MusicWeek, Kiss and Capital and national media ,Charlie has already proven all those 'Breakout star for 2013' tips right. A charismatic performer, he was personally chosen by Dappy to be the lead support on his UK tour and this month will be joining Craig David as his tour support.
Next, he will set the festival season alight when he takes to the stage at AllStarz Summer Party  Sundown Festival  Isle of Wight, Wireless and the Capital FM Summertime Ball alongside some of musics biggest names including Bastille, Justin Bieber and Jessie J. His will be the new name that everyone is talking about. Those floodgates are well and truly open to make way for a new star: Charlie Brown.
Watch Charlie Brown's debut single 'On My Way' below: