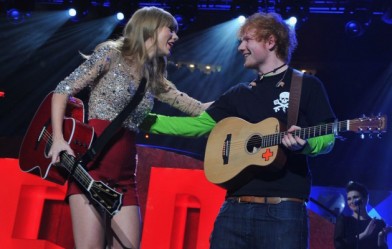 Ed Sheeran has snubbed One Direction's new album saying he's 'too busy' working on his own music. However, the 'Little Things' writer claims the 1D boys third album is complete.
He revealed: "I haven't done any songs on this one. I've actually kind of cut myself from giving any people songs at the moment, because I want to make my album.
"I was approached, and it wasn't so much a 'No'. it was just a 'I want to write tunes for myself at the moment'."
He added: "Once my album's done, then we'll see, but their album is already finished."
Although a release date is yet to be confirmed, Louis, 21, revealed last month that One Direction's next album will hit shelves at the end of the year.
'We've already started recording the album, we started about a month ago. We've been writing and recording while on tour. We're really happy with it. We don't want to rush it but it'll be out for Christmas,' he told the Daily Star.
Meanwhile, Ed is currently in the US supporting Taylor Swift on her Red tour where he says the pair love "hanging out" with each other.
Speaking to E! News, Ed said: "I go there, hang out with Taylor, I play a show, do my duet with her, then I hang out a bit more and then I go. So, really, it's a nice tour.
"Six months is a long time to go on tour and leave your family and friends and if you haven't got a friend on the road it can get quite lonely."