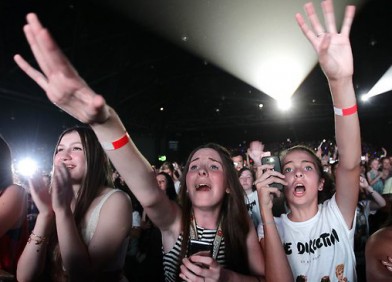 Channel 4 have announced they have commissioned a one-off documentary called I Heart One Direction will be broadcast in the summer .
Since the band's X Factor only two years ago – Harry Styles, Liam Payne, Niall Horan, Louis Tomlinson and Zayn Malik have become one of the biggest groups since The Beatles.
Their fanbase has has grown worldwide with "Directioners" following them around the globe and tracking their every move on Twitter.
I Heart One Direction is directed by award-winning director Daisy Asquith and will be a one-off 60 minute special which is set to air later in the summer. The focus will be around the fans and for them to explain to the world what it truly means to them to be a 'Directioner'.
Ordered by Emma Cooper, Commissioning Editor at Channel 4 said: "I am incredibly excited about this Cutting Edge film and proud to call myself a fellow 'Directioner.'"
She went on to say: "It's brilliant to have Daisy Asquith involved who I know will make a young and joyful documentary that will give a voice to the millions of the 1D fans who love and follow them obsessively."
Mentorn Media's executive producer, Tayte Simpson, added, 'It will offer a fascinating insight into a new breed of idol worship. Social media has created huge communities which connect millions of fans in a way that was never possible before."
"One Direction's use of social media to diarise their inner thoughts gives fans a sense of intimacy and ownership, fuelling strong emotions." she added.