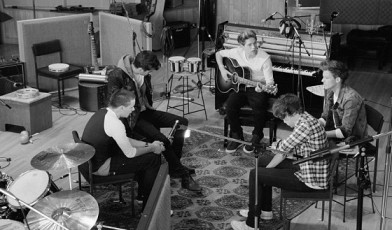 One Direction have excited fans around the globe by revealing they have already begun work on their third album and are aiming to have the record released by Christmas.
The Little Things singers have been working on a follow up to Up All Night and Take Me Home for the past few weeks and are hoping to release the new material at the end of the year.
However, Louis Tomlinson insist they are in no rush for this album.
"We've already started recording the album, we started about a month ago," he told the Daily Star on Sunday.
"We've been writing and recording it while on tour. We are really happy with it. We don't want to rush it but it will be out for Christmas."
They've also been using a portable recording studio so they can lay down vocals in their hotel rooms while on tour.
'We have the film coming out as well so we are all pretty shattered but we are all having a great time,' Louis told the Daily Star.
An source close to the boys said: "There was talk about the boys taking some time off before the next album but it was decided to release the record while they are so popular.
"The band are going from strength to strength so it would be silly not to have an album out in time for the profitable Christmas market.
"All the lads are incredibly hardworking and career minded. Although they are knackered, they all love what they are doing."