Justin Bieber has come under fire on Twitter for saying Holocaust victim Anne Frank "would have been a belieber" had she still been alive. People on social networks are now branding him "insensitive" and "self-serving".
The 19-year-old pop superstar, visited Anne Frank House in Amsterdam, the site where Frank and her family hid from the Nazis from 1942 to 1944, while in the country for his 'Believe' world tour.
Justin Bieber left some deep thoughts in the museum's guestbook. He wrote: "Truly inspiring to be able to come here. Anne was a great girl. Hopefully she would have been a Belieber."
The message was publicised by the museum – which is situated in the house Anne and her family hid from the Nazis during World War II – on its Facebook page, and has sparked anger on social media networks for cheapening her legacy.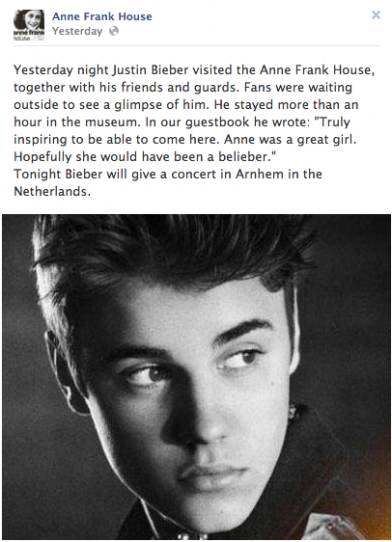 One commenter on the Facebook page blasted the 'Baby' hitmaker for turning the "inspirational" moment "into something about yourself".
Another called the stunt "self-serving" and added: "[He] completely missed the lesson in front of him. Shows his complete LACK of Maturity"
A spokesperson for the museum defended the singer, however, telling BBC News: "He's 19. It's a crazy life he's living, he didn't mean bad … and also it's nice that he made the effort, he didn't have to come."