Dan Rolph sits in a designer lounge chair, tapping away at his keyboard, completely focused apart from when he's reaching for his latte from time to time. He has another appointment in an hour, a diary full of engagements this weekend, and pretty busy schedules for most of the month.
He looks up as he hears us entering the hotel lobby, smiles. "Hi, nice to meet you, can I get you a coffee?," he says. I'm warming to this guy already.
We sit down, after about five minutes, someone comes in with a tray of coffee's. They place the tray on a table, then depart. "So, were do we start?," he says – and I instantly know that the guy with more than 200,000 Twitter followers in just four months didn't get those by dithering about.
So how did he start in the modelling world?
"I started off working for an agency doing modelling jobs for company's like Next. Soon after though I went freelance, I got a taste of the business side of the industry and that's where I started building my contact from."
"As I got older I wanted to do bigger and better things, I didn't want to be a model so I decided to set up my own agency." He added.
It all sounds so easy doesn't it – but how has this 23-year-old model from Suffolk turned a business idea into the second largest casting company in the world?
"I started up small, helped out a few models here and there, quite a lot of models were interested in working with me."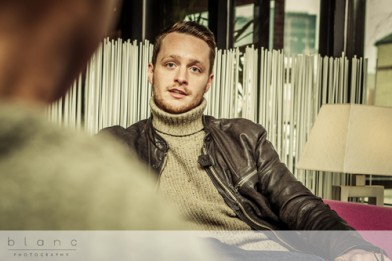 At the time he was so young the banks would not lend to him.
"I worked in hotels to finance the project, it started off as DC Models, then EMA Models and then re-branded as Stomp models. It just grew and grew from this small company. I then branched out online. It was completely different from what it started to be."
"At the moment we have about six hundred people on our books, that's models, actors, extras, dancers. We do everything."
Dan's business seems to be evolving and growing at an alarming rate. Where does he see Stomp in five years time?
Dan smiles: "Well at the moment we are the second largest casting company in the world, so I expect first place!" He says modestly.
He now has clients that include BBC, MTV and ITV. This is no mean feat and Dan's business model can be attributed to this.
"We are a subscription service so the models, actors and dancers subscribe to the website. We don't charge our clients, we have the best agencies and that's how we get so many good jobs in."
If that's not enough, Dan has launched a fashion range and already sold over 600 lines. He explains the clothing range is a natural progression for Stomp Models.
"Now that I have quite a lot of followers on twitter, I have designed my own range of jumpers, shirts etc… We are going to go into designing Onsies and we distribute all over the world."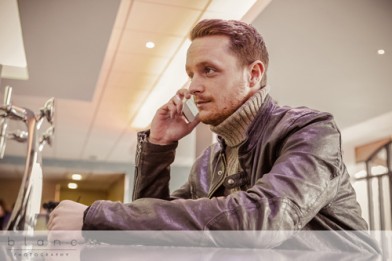 Dan's phone rings. He apologises to the person on the other line and I realise I've made him late for his next appointment. Has it been an hour already? I wonder which website, magazine he'll be chatting to next or what model or photographer he needs to organise. I bluntly ask who it was.
"It was a charity. I recently became a patriot for charity which is a major thing for me. I'm a big fan of charity.
"I was bought up in care so have always wanted to better myself. I'm only 23 and I've made a success out of my life, It wasn't always like this. That's why I would like to give back"
We shake hands, say our goodbye's and as I watch him leave through the revolving doors I think to myself, He could live anywhere in the world, but he has chosen to stay in his home town in Suffolk. He could have easily continued modelling but has chosen to share his knowledge. He could be spending his time with celebs and models but has chosen to focus on charity. Not what I expected, for sure.
Check out the full gallery of images from our interview with Dan Rolph by Blanc Photography HERE