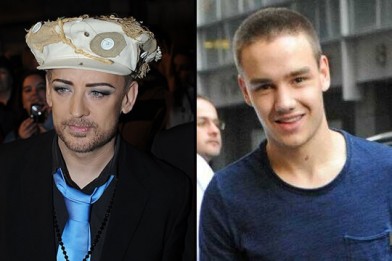 Boy George took top twitter to vent his frustration at One Direction's Liam Payne for refusing to have a picture taken with his 13-year-old niece, Molly Fitzpatrick, who accompanied George to the BRIT Awards, however, the One Direction star claims the 80's pop star has got it wrong.
He tweeted: "Top marks to Harry Styles for stopping for a picture with my niece and Bo*lox's to Liam and the disrespectful w*nker of a minder!
"Stars of the night, Harry Styles, Lana Del Ray, Jessie J. Too many drug f*cked twits to mention elsewhere! Emily Sande was great!"
However, Liam has hit back and accused George of lying and described their encounter as "awkward" as the Culture Club star continually confused him with bandmate Niall Horan.
Liam wrote on Twitter: "@BoyGeorge now now boy lets not tell porkies. Firstly thanks for getting my name wrong three times, then asking me where is liam? … awkward. Then when you finally got it right saying you wanted Niall instead.
"if you would have asked me for a picture i would have stopped bro I just did what you said and pointed niall out for you so u just keep wearing ur strange hats and enjoy yourself my little Georgie pie … It's still not cool you just look weird."
Following his outburst, George was inundated with angry messages from One Direction fans, prompting him to appeal: "One Direction fans stop bothering me!"
However, the Culture Club star couldnt resist another few digs, tweeting: "I reckon Harry Styles will leave One Direction! You heard it here first!"
Adding: "OMG a One Direction fan just threatened me with a rattle but I hit her back with my pet rat!"
This left Directioners fuming even more and George revelling in the attention. He even posted a video of Blondies original hit 'One Way or Another' with the caption: "Phew, relief!"
This can only end one way. Kiss and make up, with One Direction covering George's 'Do You Really Want to Hurt Me'!