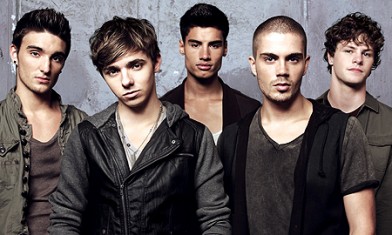 The Wanted have signed up to star in a their own fly-on-the-wall reality TV show for E! called 'The Wanted Life', which is to be produced by Ryan Seacrest.
Max George announced the news on Ryan's 'On Air' radio show: "We're moving into Hollywood into a big house … for a certain period of time doing a bit of filming, bit of fly-on-the-wall … feel so sorry for the neighbours, apologies now."
Scooter Braun, the 'I Found You' hitmakers' manager, broke the news on Twitter by posting: "There it is! @TheWanted are doing a TV show with E! worldwide showing the craziness and the making of the new album. From the LA to the UK".
He added: "I have seen the pilot episode … trust me … get ready to love these guys and die laughing @TheWanted".
Ryan Seacrest announced his new project on Twitter, writing: "Excited to announce my team @RSP is producing a new reality series starring @TheWanted on E! #TheWantedOnE".
He added: "Been working with my buddy @ScooterBraun on this for a while now… glad we can finally spill the beans :) #TheWantedOnE".
Max George later tweeted: "#TheWantedOnE gonna be on messy, funny, surprising and…. Well messy!".
The news comes after the successful launch of girl group The Saturdays' tell-all E! show, 'Chasing The Saturdays' , which follows the girl group's attempts to make it big in America as they struggle with leaving their loved ones behind in the UK.