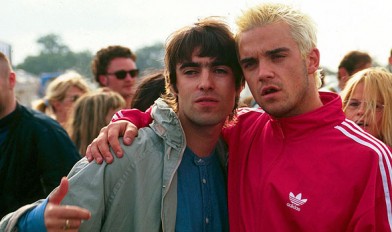 Robbie Williams has admitted the Gallagher brothers ditched him in the 90s because he wasn't "mod" enough for their tastes.
Robbie Williams has admitted his friendship with the Oasis brothers Noel and Liam Gallagher in the 90s was short-lived because he wasn't cool enough for them.
Speaking to The Sun, Robbie said: "Lad culture was a massive, massive thing. I love Oasis. I was a big fan of their music, vibe and energy.
"I happened to know them and knock about with them for a little while. I don't think I was their cup of tea.
"At the time I think the exact words were, 'I'm not mod', so I was sort of mates with them for a bit, then I didn't gel with them, so we stopped hanging out, simple as that."
However, the singer has nothing but praise for Oasis.
Robbie added: "Liam's voice was the voice of a generation and Noel seemed to be writing the songs of a generation. They were our Beatles for around 18 months.
"It was very, very exciting, high-octane stuff with various substances being taken left, right and centre, models, late night rock 'n' roll – all good fun!"
We're always on the lookout for writers/presenters/videographers and photographers. If you think you have what it takes to join the writing team. Get in touch!
http://www.popscoop.org/joinus/

Posted Under