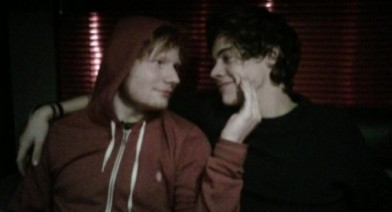 One Direction star Harry Styles owns two luxury homes in London, but according to Ed Sheeran, he prefers to stay at friends so he doesn't have to be alone.
Sheeran admits Harry recently moved in with him, and it took him a while to understand why he didn't want to live by himself.
Sheeran tells American radio station 95.5 Wplj, "The strangest thing about Harry is he lived at my flat for a while, but he had a house, he had two houses… this was like a couple of months ago. He had two very posh houses in London and he'd just come and stay.
"I'd be like, 'Don't you want to just, live at your house for a bit?' And he's like, 'No, I'm cool'."
"He lives just at his mates' houses. It's cool cos (sic) obviously he gets to see his friends every day and you wouldn't want to be in a big house on your own."
"So for a little bit I was just like, 'Man, you should live in your own house for a little bit.'"
We're always on the lookout for writers/presenters/videographers and photographers. If you think you have what it takes to join the writing team. Get in touch!
http://www.popscoop.org/joinus/

Posted Under
Twitter
Join us on Facebook