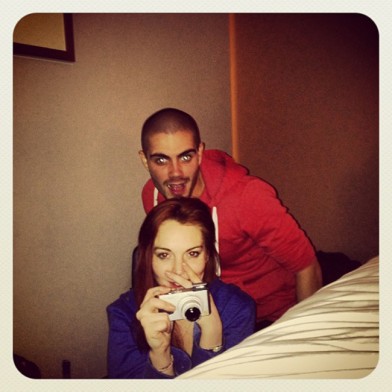 Lindsay Lohan has shared a photo of herself and The Wanted's Max George messing around in a bedroom, sparking further speculation that she is more than just a groupie.
The two have been linked together since the actress was arrested for punching a fortune teller at a New York City nightclub in November. They have been seen hanging around together on and off since.
He told a recent radio interviewer: 'She was good to party with, but there's definitely not going to be any babies on the horizon.
'She can party nearly as hard as we can. I'm sure she's got people around her that know her much better than we do. We're probably not the best influences.'
Lindsay recently met all of Max's family, going up to Manchester with him when she was recently in the UK.
What we want to know is… Is this Max's bedroom at his parents home?