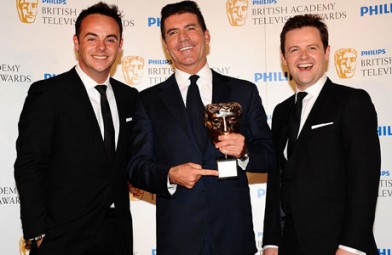 Ant & Dec have reportedly teamed up with their Britain's Got Talent boss Simon Cowell to buy a one-year-old thoroughbred racehorse with another friend.A source told the Sun: "Simon has been into racing for years. He has always wanted to be more involved than being just a punter. The opportunity came up to buy a young horse that's destined for the track and they all jumped at the chance. Simon is being guided by Ant and Dec as they have experience in the ownership of horses."
The horse has yet to be named, but friends have joked they should choose Britain's Trot Talent.
One told The Sun newspaper: "As for the name, that's still up in the air but they could do worse than name her after something they're all associated with, like 'Britain's Got Talent'."
Ant & Dec have previously joint-owned a horse called Primeval with Declan Donnelly's ex-girlfriend Georgie Thompson and her mother.