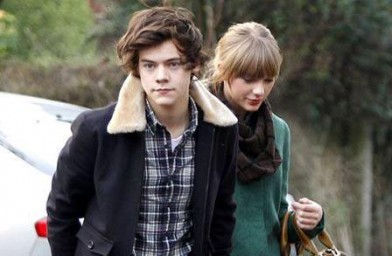 Harry Styles childhood friend Will Sweeney says the One Direction star 'didn't realise' how insane the publicity surrounding his romance with Taylor Swift was.
In an interview with Heatworld, Sweeney said: "I think he didn't realise.
"Obviously, he's 18-years old and when you've got two of the most famous people in the world [dating]. I don't think he knew what that was going to be like."
Will continued: "It's doubled his chances of everyone wanting to see him. Everyone wants to see him and everyone wants to see her, so when they're both together, it's going to be insane."
He added, "It's the fact that he's got to be different places around the world, if you're only getting to see your girlfriend once a month because you're in different countries separately all the time… it must be so strange. Having a girlfriend that one day is in Australia and the next day is in Portugal because they're playing around the world."
The 1D singer's pal went on to reveal that when Harry can sometimes be "full-on."
Sweeney explained: "When he's in a relationship, he's full-on in it. One time I remember we went all the way to Birmingham out of nowhere because he decided he needed to see this girl.
"We got a train on the day to Birmingham, got off the train, had now idea where she was going to be, it was raining really hard and we walked across the whole of Leamington Spa trying to find her.
"Then we somehow managed to find an address and it was great, but it was two or three hours of tracking around Birmingham."
He added: "So he goes to great lengths and he's caring, but he's full on. In any relationship he's going to be full on."
We're always on the lookout for writers/presenters/videographers and photographers. If you think you have what it takes to join the writing team. Get in touch!
http://www.popscoop.org/joinus/

Posted Under