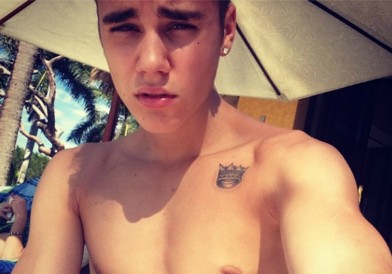 Justin Bieber gives his fans more glimpses of his naked skin, posting a photo of his abs and another snap of his latest inking on Instagram. on Instagram while enjoying his vacation.
The 'Beauty and a Beat' singer posted a picture of his latest ink with the caption, "Newtat."
He is currently holidaying at the Punta Mita resort in Puerto Vallarta in Mexico where he will be ringing in the New Year with on/off girlfriend Selena Gomez.
The new ink shows praying hands with a bed of roses at the bottom. It new tattoo is part of an ever growing collection of body art including an image of Jesus' face on his left calf in addition to an owl on his forearm and a crown on the left side of his chest.
He also has the word Believe inked on his left arm, the Japanese Kanji symbol for music on his right arm and his first inking, a bird on his hip.
Justin also used the opportunity to show off his body, sharing another photo of himself topless, baring his abs.