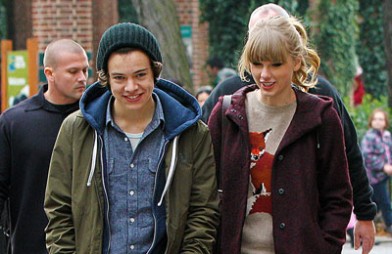 Taylor Swift has spoken about her feelings for Harry Styles to friends saying he's 'incredibly good-looking,' and 'the embodiment of youthful energy.'
According to The Mirror, Taylor, 23, told a pal: "It's crazy. He's fantastic. I love him. He just puts you at ease. He's the embodiment of youthful energy. It's really inspiring."
"He's opening my mind to so many thoughts. Our relationship doesn't feel like a weight."
Taylor was also heard openly discussing her relationship with Styles at last weekend's Capital Radio Jingle Bell Ball at London's 02 Arena.
"We do normal things, like go out to eat, take pictures and make videos. He's cute, incredibly good looking, smells good and I'm enjoying the flirtation," she said.
"Meeting him is just one of the most amazing things that has ever happened to me."
She admitted that she worried about their future, saying, "The future, the past, the present, where's this all going? It's like everything. But things are good".
But Harry has also fallen for Taylor is a big way.
BBC Radio One host Nick Grimshaw claims that his good friend Harry is besotted with Taylor and is very serious about the romance.
"Harry really likes Taylor, he's fallen for her in a big way," Nick told The Mirror.
"At first I wasn't sure if the relationship was a real one but I talk to him a lot and it seems to be that she's the one – for now, anyway."