Taylor Swift ran into Harry Styles' arms to recreate the iconic "lift" scene from 1987 romantic comedy movie 'Dirty Dancing' in New York last week.
The 22-year-old beauty leapt into the One Direction singer's arms as they performed the routine – which sees Patrick Swayze's alter-ego pick up Jennifer Grey in the 1987 romantic comedy movie – when '(I've Had) The Time of My Life' was played at Harry and his bandmates' after-party following their Madison Square Garden gig in New York last week.
A source told The Sun newspaper: "It was brilliant. The song came on and they just started dancing together.
"They didn't know it from start to finish, but towards the end they had a little chat, then she took a run and jumped in to his arms. Everyone was laughing and egging them on."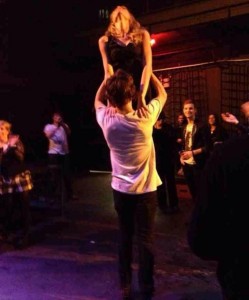 Taylor – who turns 23 tomorrow (13.12.12) – and Harry also tried their hand at karaoke with his One Direction bandmates Zayn Malik, Liam Payne, Niall Horan and Louis Tomlinson as well as their friend Ed Sheeran, who is supporting the 'I Knew You Were Trouble' hitmaker on her North American tour in 2013.
The couple are now in the UK, where Taylor watched Harry, 18, and One Direction perform at Capital FM's Jingle Bell Ball in London on Saturday (08.12.12), and the pair have since been spending time at a romantic cottage on the outskirts of Manchester, north west England.
A source added: "They've been there since Sunday.
"Taylor's management and security are in a nearby hotel with instructions that she will call them when she's ready to leave."