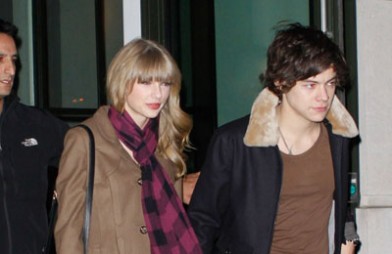 Harry Styles is reportedly looking for a ring to buy Taylor Swift for her 23rd birthday, and has been consulting upmarket US jewellers Robert Procop and Tiffany's.
The One Direction hunk and the pop superstar have been getting cosy all week in New York, and Harry is planning to show his affections by having a ring made for her 23rd birthday next Thursday (13.12.12.).A source told the Daily Star newspaper: "Harry's been on the phone to leading Los Angeles jeweller Robert Procop, who designed Angelina Jolie's engagement ring.
"He's been asking advice on what pieces can be made, or what are already available that would suit Taylor.
"Harry doesn't want anything too over the top or too ostentatious. But he's happy to splash the cash on a nice ring, not an engagement ring or anything silly like that. He's looking for something traditional."
The 19-year-old boy band has also been talking to another top jeweller, Tiffany's, in New York.
The source added: "He wants a fun, colourful stone. Harry really is the ultimate romantic – very sentimental and generous. He's only just getting to know Taylor but as her birthday is coming up next week he wants to buy something lovely for her.
"Everyone who knows Harry knows he'll always go the extra mile for a girlfriend. He's done some mad things in the past."
Friends of 'Love Story' hitmaker Taylor have told how she is rapidly falling for Harry, and forgetting all about her previous boyfriend, Conor Kennedy.
A source said: "She still texts Conor but now that things are moving fast with Harry, she is seeing the writing on the wall that she is unable to hang out and progress with Conor in any way.
"She is now officially caught up in all things Harry. She was playing games before, but now obviously she has become more fond of Harry [because] they are able to hang out all the time, which isn't the case with Conor. And Harry is really trying to woo Taylor off her feet."