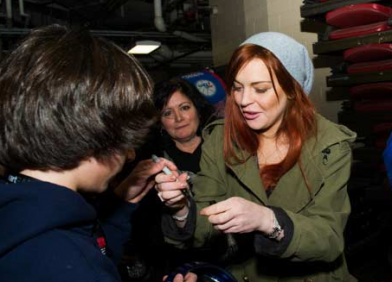 Max George has reportedly told friends he is not interested in dating troubled actress Lindsay Lohan.  Although Lilo is still hot on the trail of  The Wanted frontman. And Lindsay was apparently invited on board the group's luxury tour bus 'as Max's guest'.
The 'Liz & Dick' actress is besotted with The Wanted singer, even allegedly punching a woman he was talking to in a New York bar, but Max insists he is not interested in her.
After Lindsay appeared backstage at the Jingle Ball in Philadelphia on Wednesday (05.12.12), where The Wanted performed, a friend of Max told gossip website TMZ that Max didn't arrange for her to be there and has no plans to date her.
This did not seem to have put off Lohan. The actress was spotted at the Jingle Ball concert in Boston on Thursday night – the second time in two days that Lilo has been at a The Wanted concert.
However,  the latest info from TMZ is that Max 'did invite LiLo backstage for the Philly Jingle Ball' he 'doesn't want a girlfriend, and is a single guy… but doesn't mind having Lindsay around'.
According to TMZ, the redhead beauty travelled with the boys to Boston from their gig in Philadelphia the previous evening.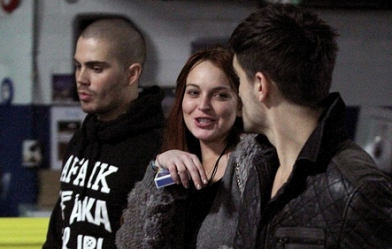 Max has previously called Lindsay, 26, a "top girl" and defended her from the furore surrounding the scuffle between the actress and Tiffany Mitchell.
The 'Glad You Came' singer said: "We were just out and there was a bit of trouble with someone in the club. But it got blown out of proportion to be honest."
He also revealed he would love to hang out with Lindsay again.
He said: "She's cool. She was a top girl. She's good fun. She's a nice girl."
Looks like you got what you wanted Max!