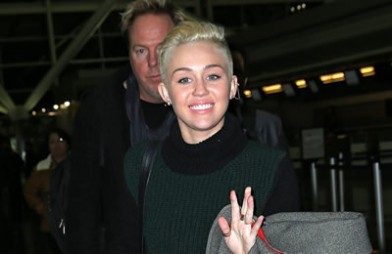 Miley Cyrus says working on 'So Undercover' was the "best job ever" – because she got to kiss her hunky co-star Josh Bowman.
The 20-year-old singer-and-actress – who is engaged to Liam Hemsworth – got to lock lips with her hunky co-star in new movie 'So Undercover' and loved every bit of their scenes together.
She said: "He's so cute. I had this scene where I had to tell him, 'Your balls are amazing,' and I got so awkward doing it.
"I also had to kiss him in our first scene together. It was fabulous. Making money to kiss Josh? Hello, best job ever. The next day I was handcuffing him to a radiator and sitting on him."
However, the former 'Hannah Montana' star insists there is nothing romantic about kissing scenes.
She added: "It's not really romantic. Especially when the crew yell, 'Hold it longer, tongue her' as you kiss."
As well as Josh, Miley recently admitted she thinks One Direction hunk Zayn Malik is very "cute".
She said: "Zayn Malik! He's my favourite…Because my friend and him have matching hair. I also think he's the cutest."