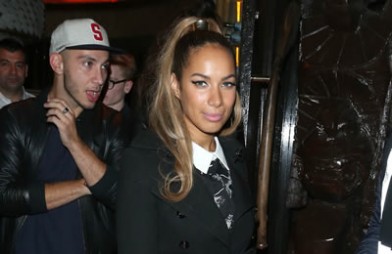 Despite being linked to One Direction singer Liam Payne, Leona Lewis has reportedly got back together with ex-boyfriend Dennis Jauch.
The 'Lovebird' hitmaker – who is believed to have been dating One Direction singer Liam Payne for around a month – has reportedly reconciled with the German dancer after the pair were spotted hand-in-hand following a romantic meal at Bluebird in Chelsea, London, on Thursday night (29.11.12).
A source told the Sunday Mirror newspaper: "They arrived at the restaurant hand-in-hand and as soon as they sat down they were laughing and sitting very close. It was clear to see the spark had been reignited.
"After they came out of the restaurant they jumped in a cab and Dennis put his arm around Leona and was cuddling her. He looked very protective of her. They whizzed off to Chinawhite nightclub."
A friend of Dennis added: "Dennis always carried a torch for Leona and hoped she would come back to him. They split because they were apart a lot. Dennis is now trying to spend as much time with Leona as possible."
On Friday night (30.11.12), Dennis took to his Twitter account to tweet a picture of his "dinner for one" shortly after retweeting a message stating: "The most precious possession that ever comes to a man in this world is a woman's heart.
Last month, Leona, 27, told how she wasn't bothered about an age gap between her and 19-year-old Liam and insisted the pair have plenty in common.
She said: "You'd be surprised how much we have in common. He's great. We see each other when we can. It's very flattering to get compliments like that. It's cute… I'm not saying [if we're together]. I'm having fun and enjoying myself."