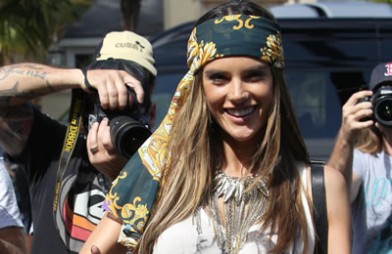 Victoria's Secret model Alessandra Ambrosio wants to "raid the closet" of Kate Moss because she loves the supermodel's sense of style.
Alessandra Ambrosio's style icon is Kate Moss.
The Victoria's Secret model would love to "raid the closet" of the British supermodel as she adores everything she wears.
She said: "I wish I could raid the closet of Kate Moss. She has such amazing style and clothes."
While Alessandra loves Kate's style, she would describe her own as "boho chic".
She told Life & Style magazine: "Most days I'm boho chic but I love to be glamorous for a night out on the town."
Alessandra also revealed she has her heart set on a Valentino clutch bag.
She said: "Right now I'm lusting after a studded Valentino red clutch. I borrowed one recently for an event and have been thinking about it ever since."
While Alessandra favours a "boho chic" style, she recently showed off a more glamorous look when she donned the Fantasy Bra for the annual Victoria's Secret fashion show.
And the Brazilian beauty was delighted to be chosen to wear the prestigious jewel-encrusted piece – which is redesigned every year – for the 2012 catwalk spectacular.
She said recently: "I just wanted to scream. But I won't lie, I was really worried."
This year, the Fantasy Bra took a floral theme and the $2.5 million design by Long Island's London Jewellers featured a centrepiece of a 20 carat white diamond, and 5,200 other gems including amethysts, sapphires, rubies and diamonds set in 18-carat rose and yellow gold.
Alessandra said: "It was perfect – I felt they made it for me. It's very romantic.
"I'm pretty calm. I've been waiting for this moment for a long time."