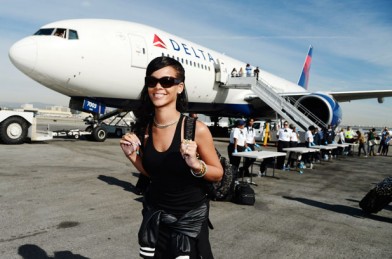 Rihanna has defended herself after the heavy criticism she received from journalists on her 777 Tour, insisting she needed sleep in order to play her live shows.
RiRi was accused of ignoring the fans and journalists that were invited to tour with her – on board her private jet.
"It was different having to do your job but also have 200 guests come along with you," Rihanna told Radio 1's Nick Grimshaw.
"They all want you to host a party every time you get on the plane after a show but you really only have that time to sleep until you get to the next country. Sometimes it was a two-hour ride to the next country and that was all the sleep you would get."
"I knew I had seven countries and seven shows and I had to save my voice," she later added: .
"I didn't go crazy. I didn't party too hard. I did have fun though. I tried to get everybody involved but sometimes you just wish you could give more.
The negative press coverage didn't seem to affect RiRi as 'Unapologetic' went straight to number one in the UK album chart this week.