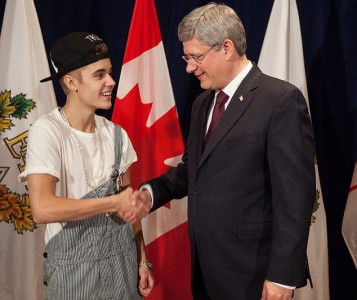 It's been a busy week for Justin Bieber. On Friday, the Canadian heartthrob took to Twitter to defend his right to wear overalls to meet the Canadian Prime Minister. Not before he found time to give his fans a taste of his naked torso…again!
"Back in the gym," he tweeted Friday, dropping his overalls to reveal his cut torso, he later wrote, "good workout. #focused."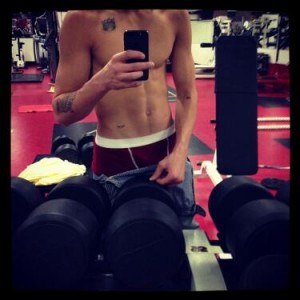 Bieber also met with Canadian Prime Minster Harper on Friday, when he was awarded the Diamond Jubilee Medal before his show in Ottawa. The award is given to Canadians who have made a significant contribution to their homeland.
Soon after, the Daily Mail ran an article "Would a suit hurt, Justin? Bieber branded 'white trash prince' after wearing overalls and baseball cap to accept prestigious award from Canadian Prime Minster"
The singer quickly posted a statement about his choice of wardrobe on Instagram in response to the write-up. "The pic of me and the Prime Minister was taken in a room in the arena where i was performing at that day. I walked straight from my meet and greet to him, if you 'Hayley' expect me to have a change of clothes let a suit at that specific time that's crazy," he wrote on Sunday. "It wasn't like it was like I was going into his environment we were at a hockey arena. Wow am i ever white trash hayley peterson lol."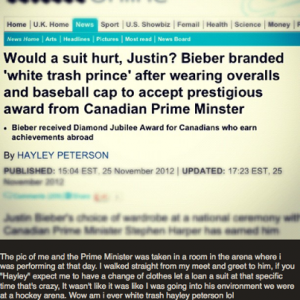 In fairness, Harper joked about Biebers wardrobe decision long before the press jumped on it on Sunday, November 25. On Saturday, he joked on Twitter, "In fairness to @justinbieber, I told him I would be wearing my overalls too. #cdnpoli #beliebers."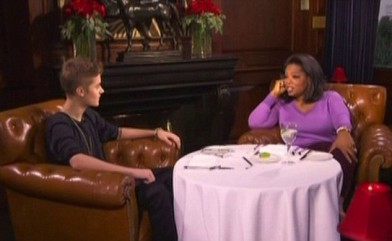 As if that wasn't enough exposure, Bieber was full of praise for his on-off girlfriend Selena Gomez during an interview with Oprah Winfrey aired on Sunday.
He told the host' "I am all about genuine people, and I feel like she's just one of the most genuine people," Bieber says about Gomez in the interview. "She just has a good heart. And I can talk to her about anything."
"I never make her separate from me because I don't ever want her to feel like I'm ashamed with her,' he said. 'If we get away, we're getting away together, at least."
Winfrey asked himabout his celebrity crush besides Gomez. "Beyonce," Bieber told Winfrey "She's amazing to me."
Oprah was clearly excited to be sitting down with the star, in what she called: 'My biggest interview since Michael Jackson in 1993.'