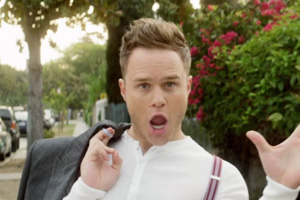 X Factor runner up Olly Murs' 'Troublemaker' is currently beating Girls Aloud's 'Something New' in the UK midweek charts, outselling by almost 28,000 copies.
Troublemaker will be Olly Murs fourth No.1 single after 'Please Don't Let Me Go', 'Heart Skips A Beat' and 'Dance With Me Tonight'.
One Direction are currently at No. 5 with 'Little Things', while 'Girl On Fire' by Alicia Keys looks set for fourth position.
Meanwhile on the albums chart, the No.1 spot will be a battle between Rihanna with 'Unapologetic', One Direction's 'Take Me Home' and Led Zeppelin's live album 'Celebration Day'.