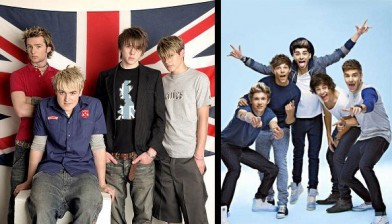 McFly have admitted they gave One Direction their s***ter songs when they were asked to write for the boy band.
The fellow boy band were hired to write songs for One Direction but sneakily ended up slipping them their least favourite tracks.
Speaking to Metro. Singer Tom Fletcher said : 'We just worked on a couple of songs on their new album. They came over to do a writing session and I had a few song ideas.
'It's hard when you're writing for someone else. You obviously always want to do your best work but sometimes you write and have a song idea and you're like, "Oh, it's so good I want to keep it for us".'
Bandmate Danny Jones said: 'You sent that slightly s***ter one, didn't ya?'
Fletcher continued: 'So I played them a few song ideas and they went for one of the others. I was like, yes!'
Despite pulling a fast one on the X Factor superstars, the lads have been bowled over by the 1D machine. McFly clocked up seven No.1s in their heyday.