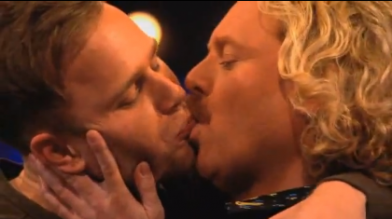 Olly Murs could kiss pretty much anyone he wanted, but his recent choice leaves a bad taste in our mouths.
The Xtra Factor presenter appeared on Celebrity Juice when presenter Keith Lemon admitting that he can kiss for 'ages' and team captain Holly Willoughby volunteered Olly to test Lemon on his claims.
Murs sniggered before, realising they were not joking said: "Seriously?" he then stood up in front of a live studio audience, and said: "Are you seriously…are you sure?"
He then paused for a moment adding: "I'm going to let you lead the way here Keith." OMG!
Watch the clip below:
[youtube_video id="wcBCzaSTPAg"]