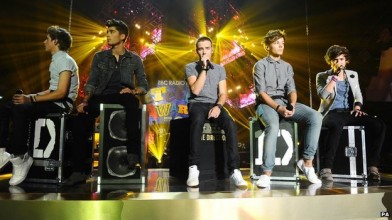 One Direction have won the prize for the Best UK/Ireland Act at next month's MTV European Music Awards.
The boys beat all the competition in the public poll to triumph in the category ahead of the forthcoming awards.
Louis Tomlinson said: "We're so happy and incredibly honoured to have won this. Once again our amazing fans have done us proud."
Viewers will go on to vote for the Best Worldwide Act, with One Direction battling it out against winners from four other global regions for the further accolade.
The MTV European Music Awards are being staged in Frankfurt, Germany, on November 11.