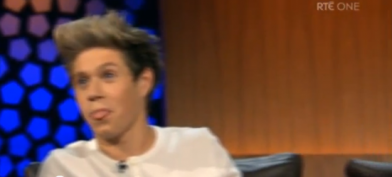 When Taylor Swift reportedly asked a member of One Direction out to dinner. The identity of the lucky lad was kept secret. That is, until now.
The American country singer was in the UK promoting her new album performed at the BBC Radio One Teen Awards on last Sunday with the teenage heart-throbs.
But when The Sun newspaper caught wind of the plans, it was suddenly cancelled as she headed off on her private jet back to the US.
During an interview on Irish talk show The Late Late Show, the boys were asked which member of the band it was who got asked to dinner by the beautiful country singer.
They all shifted awkwardly in their seats before Harry, Louis or Zayn said: "It definitely wasn't me", At This leaves Niall and Liam as the major suspects, but when the question was asked Niall stuck his tongue out to suggest it was possibly him?
Watch the video and let us know what you think!
[youtube_video id="djjPMADWrxQ"]