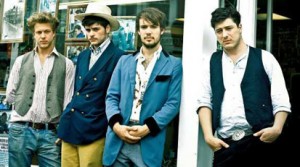 Mumford & Sons scored the biggest debut of the year so far as their album 'Babel' shot to the top of the Billboard 200 album chart.
"Babel" sold 600,000 copies in its first week of release in the US to secure them their first US chart topper, almost doubling the sales of Justin Bieber's 'Believe,' which, until now, was the year's biggest debut with 374,000 units sold in its first week in June.
However, it looks like the band will not be splashing out.
Daniel Glass of Mumfords' US label Glassnote Records – says the boys won't be getting over-the-top gifts to celebrate their success.
He told MTV: "No new cars. We have something we think is very special … we hug. We're big huggers. We will give them a big hug and compliments on their job."
Daniel says he always knew the band – made up of Marcus Mumford, 'Country' Winston Marshall, Ben Lovett and Ted Dwane – would be successful as they're so talented and work really hard, especially when on tour.
He said: "I can go back to the beginning and I knew we were signing a very talented band to our roster.
"They delivered incredible music for a second time … and the work that was done, it's very empowering and shows a lot of confidence when a band goes out for almost two months playing new music from the new album for their fans and shares it with them and makes the fan experience so wonderful and inclusive.
"The attitude of Mumford & Sons is that fans really do come first and word of mouth is important. They've let you in on new music for a long time and it's not a marketing ploy. It has been that unfurling and exposure going on for a year and a half with the new music."