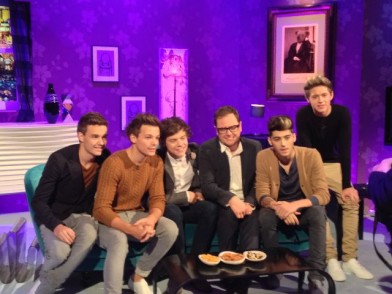 One Direction could be on the verge of breaking up as the boys struggle with being the biggest band in the world.
According to the Daily Star Sunday. They have been banned from openly sleeping with fans, getting drunk or smoking in public and the pressure is getting to them.
A Daily Star Sunday source said: "One Direction are the biggest pop stars in the world right now and that's a lot of pressure to cope with. Everything they do is ­ scrutinised and judged by the ­media and the public – and the boys are finding it hard to cope. They are young lads who want to have fun. But they've been placed under strict instructions by management not to do anything to harm their squeaky-clean image."
Niall's dad has voiced concerns about his son's drinking and partying. Zayn shutting himself away after struggling to cope with the celebrity, lifestyle. He temporarily quit Twitter due to a fan backlash over his ­relationship with Little Mix girlfriend Perrie Edwards.
Further problems appeared last week during their appearance on Alan Carr, Chattyman.
Sources told the Daily Star Sunday, "Alan was banned from asking about Liam's split from girlfriend Danielle Peazer. Alan did his best to keep it fun but it was clear to everyone the group didn't want to be on the show."
The 25-minute interview was slashed to just 13 minutes on screen because they struggled to make the chat look good.
One audience member told the Daily Star Sunday: "It was obvious they weren't allowed or didn't want to talk about anything other than their album."
Celebrity blogger Perez Hilton predicted the band could split. He said: "I'll probably get in ­trouble for saying this but they won't have longevity. I wouldn't be surprised if Zayn leaves first. I think they have a contingency plan and are prepared to move forward if one of them leaves. But if two of them leave it is over."