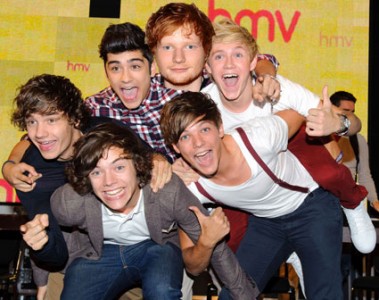 The 'Lego House' singer broke his prediction to MTV News. When asked about his nomination for an EMA for Best U.K. and Ireland Act, Sheeran said it was "quite cool. I was a bit surprised about that".
When asked why he was surprised, Sheeran replied: "Because the EMA kind of seems like quite the American-leaning awards, even though it's [European] Music Awards. It's always kind of American-leaning, and obviously there's the U.K. and Ireland. I don't know. I was a bit surprised to be in that. It should be cool."
Sheeran seemed pretty certain the One Direction would win the fans vote, saying: "It's public vote, though. So One Direction's going to pick that up, 'cause anything's that public vote with One Direction, with them, they're going to win. Taylor [Swift's] got like six though, right?"
He also seemed shocked at being nominated for a MOBO: "I've been nominated for three MOBOs as well, which is the Music of Black Origin awards and, like, I'm white and make folk music. I haven't a clue, and that's public vote as well, so I'll be very confused if I win that, very confused."
We're always on the lookout for writers/presenters/videographers and photographers. If you think you have what it takes to join the writing team. Get in touch!
http://www.popscoop.org/joinus/

Posted Under
Twitter
Join us on Facebook