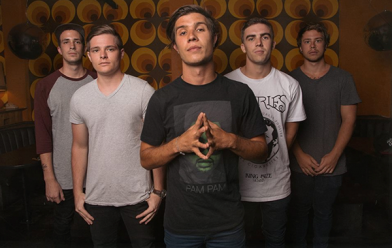 Brisbane 5-piece 'Young Lions' are ready to storm the Australian music scene, with the release of their sophomore album 'Blue Isla' on January 27! The lead single for the album, 'When Will We B Free?' sets the tone for the album, and is said to be a big step from their debut album 'BURN'.
The band also announced an eight date Australia wide tour, which, according to bassist Morgan Castle, is going to be a tour of 'Non-stop energy and passion,'.
'When Will We Be Free?' is out now on iTunes!
'Blue Isla' is set for release on January 27th!
'Blue Isla' Australian Tour 2015
Saturday February 14: The Brightside, Brisbane, QLD – 18+
Sunday February 15: Acoustic Session @ Sabotage, Brisbane, QLD – 18+
Thursday February 19: Hot Damn @ The Exchange Hotel, Sydney, NSW – 18+
Friday February 20: Tattersalls Hotel, Penrith, NSW – 18+
Saturday February 28: Bang @ The Royal Melbourne Hotel, Melbourne, VIC – 18+
Thursday March 5: Last Night, Perth, WA – 18+
Friday March 6: YMCA HQ, Leederville, WA – All Ages
Saturday March 7: Babushka, Perth, WA – 18+
The following two tabs change content below.
Latest posts by Kayla Newland (see all)

Posted Under