Samira, the UK's hottest dance-pop newcomer, has released her latest single 'That's Not What My Friends Say', co-written with DJ and producer Welshy.
The sassy summer-ready anthem celebrates friendship and girl power while taking inspiration from late 90s R&B. Samira is fast becoming Britain's new 'Queen of Clubs' with her edgy debut solo single 'Like This, Like That' and her feel-good summer hit 'I Love Your Smile'. With a string of upcoming dance-pop bangers, this triple-threat entertainer is one to watch for, having worked with hitmakers such as Tre-Jean Marie and Cutfather.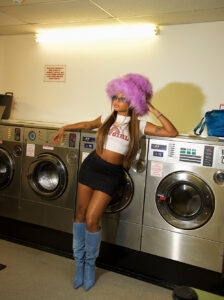 Samira said: "Like it is for most girls my age, dating is… interesting! And so I wanted to write a semi-autobiographical girl power anthem that was spicy and full of personality, that celebrated friendship and the role your friends often take in spotting the red flags before you do!
I wrote this with the immensely talented UK-House powerhouse that is Welshy, alongside singer/songwriter Evalina, and it takes my love of no-nonsense late 90s female R&B lyricism and puts a very 2023 spin on it! It's very much the fun, sassy little sister to 'Like This, Like That', and hopefully shows another facet to who I am as an artist."
Choose your preferred music service
Watch out for more irresistible music from Samira in 2023.