Streamers, fireworks, massive, pitch-wide CGI: after a long, two-year postponement, The Killers burst joyously out of the stage fog last night at Carrow Road in an explosion of confetti and bright, anthemic sound. Brandon Flowers and his band were here, they were DOING THIS, and they clearly had no intention of phoning it in for any single moment. Despite almost 20 years headlining the biggest venues in the world, from the start they treated this Norwich gig as if it were New York or LA.
'THIS IS A SUPERSPREADER EVENT!' Flowers announced to wild cheers, after the soaring energy of My Own Soul's Warning set the tone for the evening; 'WE'RE SPREADING LOVE AND ROCK AND ROLL!' And in truth the evening was suffused with the sheer communal joy, after all this time, of being able to dance with friends and scream the lyrics of songs that have been part of your life for a decade or more. It might not have been the first post-2020 gig for a lot of us, but it'll be a while before that feeling gets old.
The band seemed to be enjoying the same kind of moment as Flowers roamed the stage for almost two hours, the astonishing power of his voice undiminished, pitch perfect.
'HE DOESN'T LOOK A THING LIKE JESUS', we yelled at each other, exuberant. People were there with their friends and their dads, dancing, waving, whooping, sitting on each other's shoulders. The audience ranged from students to middle-aged housewives (I counted three peach-coloured tops without moving my head). Everyone, wherever you looked, was clearly having the absolute best time.
In a black suit garnished with an enormous and splendidly apposite white flower, Flowers was a warm and engaging performer, and the Vegas-esque showmanship wasn't limited to the spectacular stage effects. At one point he teased the audience in a lengthy, understated mime debate, pretending not to understand that he was wanted to sing again, wandering over to talk to the drummer, until the screaming brought him back to the mic. He perpetuated The Killers' sweet tradition of allowing an audience member, chosen by banner design ('Sorry, but hers is a lot more intricate than yours') to play drums on the gloriously percussion-heavy For Reasons Unknown. Local drummer Grace did us proud, belting out an accomplished, intricate firestorm of beats, wide-eyed and looking like she thought the whole thing might be a Covid fever-dream. It was a moment that characterised the whole night in the generosity of spirit with which the band, Flowers himself, and the audience embraced her performance, excellent as it was; a vanguard cheered her back to her place in the crowd.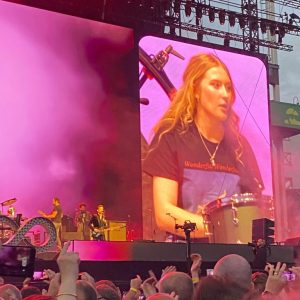 Brandon spotlighted the lead guitarist (who did actually look a thing like Jesus) standing in place of Keuning, in solos and in a quiet little cover between the two of them of The First Time Ever I Saw Your Face. Strategic blocks meant they could be seen across the whole stadium.
It's always hard to pick a favourite with a band with as many hits as this, but the packed arena went wild for Jenny Was A Friend Of Mine, Can You Read My Mind, and Somebody Told Me. One of the biggest crowd responses was, unsurprisingly, for the upbeat, new-wave influenced dance vibe of Human. 'ARE WE HUMAN, OR ARE WE DANCER?' We roared the Hunter S Thompson-inspired question as one to a giant, multi-celled moving image of dancers on the stage backdrop.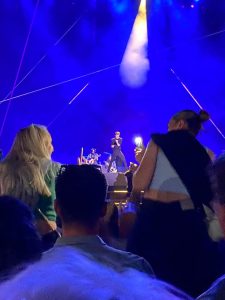 With admirable restraint, the laser light show was reserved for the final song of the encore, the band's first ever release and one of the most popular songs of all time. We knew Mr Brightside was coming, and we wouldn't have had it any other way. Friends and strangers embraced and danced and waved and shout-sang together, bottles and streamers underfoot and the unseasonably warm night all around, two years of waiting and uncertainty and outright trauma fading behind. It was a very human moment. Arms wrapped around each other, in the exhilarating freedom of it we were definitely also dancer.
The end of the gig was given over to the band's drummer, Ronnie Vannucci Jr. Deadpan comic, alone on the darkened stage, he conducted the crowd's cheers. 'Thank you for this,' he said; then he toppled the mic stand and was gone. It felt like he meant it.