After hearing about this 28-year-old artists background from touring in a boyband to going solo, I was desperate to get to know a bit more about Kris James as a solo musician. Kris will be releasing his solo album: Highs and Lows of Love and Life at the end of the year along with a father and son swim/underwear line in 2021.
CE: Tell me a bit about yourself?
KJ: I'm 28, I grew up in Liverpool but when I became part of my band I ended up living in multiple places all over the world including London, Germany and America. I'm currently living in London having recently moved into a flat here. I was in a band called The Scheme, it was successful until one of my band mates met a girl and fell in love, then we ended up parting ways. I'm now working on my new album which is mostly pop music, I love it, a lot of my inspiration comes from pop artists.
CE: Who would you say your main inspirations are?
KJ: I would probably say The Beatles and Prince, I love how Prince always broke the rules. Labels would want songs that were three minutes long but he would always go against that like with Purple Rain for example which is an eight minute song, that's definitely one of my favourites. Harry Styles is also one of my favourites, I just love him. He's such an amazing guy and he has it all. He writes all his own music and it's amazing, he looks good, he sounds good. We actually worked with the same producer which is really cool. He's raised the bar so high with everything he's done.
CE: As a fellow Harry Styles lover it's nice to hear he's as great in person. What have you been upto during lockdown? How have you coped with it?
KJ: *Laughs* I've been very productive during lockdown. I've got into playing guitar and improved on it a lot. I bought a D45-E Retro guitar as well. I feel healthier and happier as I've taken up skipping which has felt great. I've also done a lot of baking especially for my elderly neighbour, she's lovely . I've also given up drinking through lockdown so it's generally made me very healthy!
CE: That's great to hear you've gotten fit and made the most of these last few months. Where has been your favourite place to perform so far?
KJ: When I was in the band we got to perform at the Amway Centre in Orlando, Florida the night before Ed Sheeran performed. It was incredible to know we performed at the same venue as him. We sang the American anthem acapella style and the crowd loved it. It was an unforgettable night and definitely my favourite.
CE: What a cool place to perform! Do you have any other hobbies other than music?
KJ: I love cooking and going to the gym. I'm really into meditation especially. I also love wine, I only really tend to have this really good wine six times a year. It's a really carefully made wine which takes a long process to make and it tastes amazing and it makes it so much more special only having it occasionally and it's a nice reward to myself.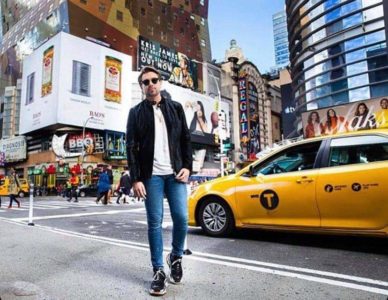 CE: Do you have any tattoos or piercing?
KJ: No, my mum won't let me *laughs*. I only have my left ear pierced. I have thought about getting my nose pierced but I'm still unsure.
CE: Mums always seem to be nervous about it until you actually get it done then they seem ok! Where is your dream country or venue to perform in?
KJ: Without a doubt Madison Square Garden in New York, that's really how you know you've made it and it's such a beautiful venue. I had my face on a billboard there a few years ago and it was so cool receiving messages from friends saying they've just seen me on a billboard. I'd also like to perform at the Albert Hall in London and the Echo arena in my hometown.
CE: I think having your face on a billboard in New York City is how you know you've made it! What is the weirdest thing a fan has ever said or done for you?
KJ: I moved into a flat a while back and I was doing an instagram live and a fan dmed me asking for my address after. So I gave it to her and a few weeks later some Bamboo place setting with chopsticks arrived. So she had noticed on my livestream that I didn't have any place setting so she sent me some and some homemade tea bags as well. I also get girls sending me pictures of their boobs (which I ignore of course) and asking me to marry them.
CE: Wow, that's thoughtful! If you weren't in the music industry, what would you be doing?
KJ: I would definitely be working within the bar and restaurant industry. I would love a small fine dining restaurant, something that pays close attention to detail. I also love fashion so maybe something to do with that. I'm actually launching a father and son swimwear and underwear line next year. It will be called Amanzzo which means water.
CE: Is there a meaning behind your new song Naive?
KJ: It's to do with a bad group of friends I had when I was younger and it was very hard to leave that group as they made out I would end up alone and unhappy and without anyone.
But then we all broke apart anyway and I was perfectly fine on my own. I realised I don't need people to make me feel good. It took a while to get back to myself but I made the right decision. I learnt you should always tell people how you feel and don't hold things in because the truth always comes out. All my friends come to me now when they want an honest opinion on something and I just tell people how it is.
CE: Who would you like to tour with?
KJ: I would love to tour with either Harry Styles, The Script or OneRepublic. I'm actually bringing out a 10 track album at the end of the year which would have been for being a support act on tour for one of those artists.
CE: Who is the coolest person you have ever met?
KJ: I've met quite a few cool people. Tina Turner, Jermaine Jackson and of course Harry Styles. I met Harry styles a few years ago in LA after the American Music awards in a bar restroom and he was the nicest guy, I can't fault him.
Kris social media-
See posts, photos and more on Facebook.
No Description

https://www.instagram.com/mrkrisjames/?hl=en
Listen to Kris James on Spotify. Artist · 107.5K monthly listeners.