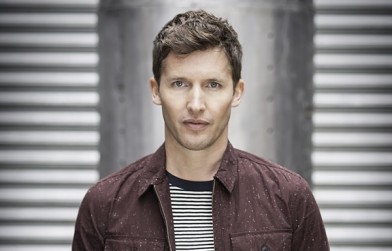 To celebrate the release of the 'Time Suspended' deluxe edition of his stunning Top 3 album 'Once Upon A Mind', James Blunt has released a nostalgic video for the previously unheard track, 'Should I Give It All Up (Demo)'.
Shot by James himself in lockdown and directed/edited by Jacob Wise, the video for 'Should I Give It All Up (Demo)' features highlights from James' official videos across the years and is a fitting celebration of a momentous career. Of the track James said, "It's about insecurities. We all have them."
Watch the video for 'Should I Give It All Up (Demo)'
The release of the deluxe version comes as 'Once Upon A Mind 'fast approaches Gold status, smashing 100,000 UK sales, and features two brand new, original demos, and five stunning, acoustic versions of songs from the album.
His classic 2004 debut album 'Back To Bedlam', was recently named as one of the top ten best selling albums of that decade, and with 'Once Upon A Mind', James Blunt has reinforced his reputation for writing honest, emotional songs that people can easily relate to.
'Once Upon A Mind' has marked a return to what James Blunt does best – writing classic songs that touch both the heart and the head. Amongst the string of six hit singles, the album includes the breezy first single 'Cold', the heartbreaking ballad for his father 'Monsters', and the latest smash 'The Greatest' – of which the video applauds the NHS and health workers in the frontlines, battling the coronavirus.
James Blunt has sold over 23 million albums, had a global smash hit with 'You're Beautiful' and has showcased his wit and charm more recently with his always engaging twitter account.
Pop Scoop founder and editor. Ex showbiz/tech editor at the Cyprus Mail. Former sub-editor at Archant. Former art director Sky TV. Co-founder of Kool Magazine and freelanced for the BBC, Channel 4, Warner Bros and the Cyprus Broadcasting Corporation.

Posted Under
Twitter
Join us on Facebook