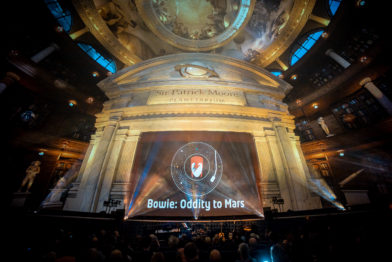 Following four sold-out performances last month, the best-selling show, Bowie; Oddity to Mars, is set to return to the National Space Centre on 18-19 September 2020.
Fans are being offered another chance to sit back in the UK's largest planetarium to enjoy the immersive LIVE performance celebrating one of the biggest pop culture icons of the twentieth century: David Bowie, alongside a full-dome show highlighting the 50th anniversary of the Apollo space programme.
The National Space Centre is working with DAVID LIVE to host four performances of the music of David Bowie in the Sir Patrick Moore Planetarium. The show fully utilises the unique full-dome format of the UK's largest planetarium, with a stunning immersive 360-degree show.
David Bowie was an award-winning musician, actor, and performer. He stands tall in the Hall of Fame as one of the biggest pop culture icons of the twentieth century, selling an estimated 140 million albums worldwide.
50 years since Space Oddity was released, Bowie; Oddity to Mars will celebrate 1969 to 1972: a significant period of time that covered both Bowie's experimental phase (Space Oddity to Ziggy Stardust) and the Apollo lunar landing window.
DAVID LIVE is a British, five-piece band that has performed honest and insightful musical tributes to David Bowie since 2005. Their experienced line-up combines unique musical upbringings and is considered a favourite amongst true Bowie aficionados.
Malika Andress, Head of Marketing at the National Space Centre, added: "We can't wait for Bowie: Oddity to Mars to return. DAVID LIVE was phenomenal in January, bringing the music of David Bowie to life in our planetarium alongside stunning visuals created by our in house team."
All four January shows sold out a month in advance with fans being advised to book early to guarantee their tickets. General Admission (18+) costs £15 for ONE show in the Planetarium. There are also ticket packages allowing guests to add a limited edition t-shirt (£25) or a Bowie-inspired cocktail and a t-shirt (£30). Showtimes each night are 19:30 and 21:00. https://spacecentre.co.uk/event/bowie-oddity-to-mars/
Pop Scoop founder and editor. Ex showbiz/tech editor at the Cyprus Mail. Former sub-editor at Archant. Former art director Sky TV. Co-founder of Kool Magazine and freelanced for the BBC, Channel 4, Warner Bros and the Cyprus Broadcasting Corporation.

Posted Under