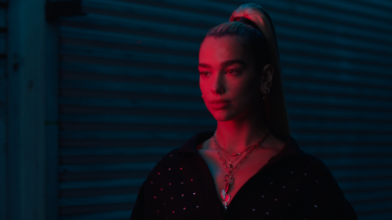 Dua Lipa reveals the live video and 6 track remix EP for her latest track 'Don't Start Now'. Directed by Daniel Carberry (Justin Bieber, Bruno Mars, Deadmau5) – the video sees Dua perform a divine slice of pumping disco with a live band at a roller disco. Watch below.
Listen to the remix EP https://dualipa.co/dsn_remixes Follow me online: Instagram: https://dualipa.co/instagram Facebook: http://dualipa.co/facebook Twitter: http://dualipa.co/twitter YouTube: https://dualipa.co/youtube Spotify: http://dualipa.co/spotify Apple Music: https://dualipa.co/apple-music Deezer URL: http://dualipa.co/deezer Amazon Music: https://dualipa.co/amazonmusic
The 6 track remix EP includes remixes by Pink Panda, Dom Dolla, Purple Disco Machine and Zach Witness as well as the extended live version. Listen Here
The end of 2019 saw Dua perform 'Don't Start Now' at MTV EMAs, ARIAs, AMA's, since arriving in style in 2015 Dua's debut album has eclipsed 4 million sales worldwide and spawned 40 million single sales. It is officially the most-streamed album by a female artist in Spotify history and she is also the youngest female solo artist ever to hit 1 billion views on YouTube.
Dua will embark on a 24 date UK and Europe arena tour this Summer including 2 nights at the O2 Arena.
Pop Scoop founder and editor. Ex showbiz/tech editor at the Cyprus Mail. Former sub-editor at Archant. Former art director Sky TV. Co-founder of Kool Magazine and freelanced for the BBC, Channel 4, Warner Bros and the Cyprus Broadcasting Corporation.

Posted Under
Twitter
Join us on Facebook