'Kate Tempest returned to Norwich almost three years after she played a full Waterfront gig whilst touring her last album, Let Them Eat Chaos. Now she returns to the bigger UEA LCR venue to perform her latest album, The Book of Traps and Lessons.'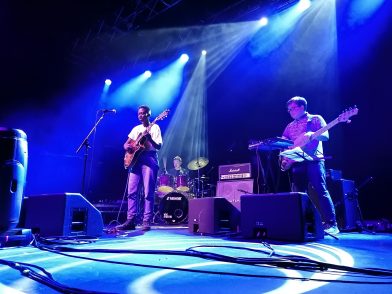 The venue filled up quickly, so when support Nardeydey took to the stage, she was playing to an already full room of eagerly awaiting faces. Nardeydey is an impressive jazz guitarist and she definitely wowed the audience with her vocal and guitar ability. An important and up and coming member of the local London music scene, like Kate Tempest once was, Nardeydey was a reminder that this scene is still thriving. Differing from Kate, who came from the spoken word scene, Nardeydey is part of the New Jazz scene in London. Accompanied by a bassist and drummer to complete her band, she warmed up the room to the now very packed LCR.
Kate walks on to the stage at 9pm, she walks to the left of the stage, then the right, intensely staring into the crowd but not saying anything. The room is completely silent, everyone is staring back, waiting for her. The intro of Europe is Lost starts to play, before Kate has even said anything, the audience cheers loudly.
Kate is now accompanied on stage by keyboardist Clare Uchima, who fills the tracks with heavy bass that runs through you as much as Kate's lyrics do. Kate continues to play the more upbeat tracks from her last album. With the combination of her emotionally and politically focussed lyrics, impressive ability to rap and Uchima's beats accompanying her, the show begins to feel like the most captivating hip hop show I've ever been to. The audience bobs their heads to the beat whilst listening to every word Kate says, cheering when she says anything particularly relevant or relatable, most noticeably her more political lyrics. Kate moves around the stage, grabbing everyone in the audience's attention, locking eyes with individuals in the room. She manages to perform in a way that makes you feel like you are part of the performance because she talks to the audience and engages with them.
'Kate finishes performing songs from Let Them Eat Chaos with Tunnel Vision, before moving on to the noticeably slower Keep Moving Don't Move. This set feels like it is split into two parts, with songs from Let Them Eat Chaos played in the first part and The Book of Traps and Lessons played in the second. The second half is a lot slower in tempo, with softer keys played by Uchima for some of the songs. With the gentler beats still accompanying the lyrics, it keeps the crowd nodding to what now feels like more of a spoken word gig, what Kate Tempest is known for. The audience remains mesmerised, hanging on to every word Kate says. The lyrics of these songs feel more personal to Kate, perhaps discussing issues in her private life. They talk about love, falling out of love, capitalism and the changing scene of London. So much of what she says is relatable to the audience, who continue to cheer at some of her more provoking lyrics.'
Everyone is very respectful of Kate's performance, too engaged to talk, the audience being almost silent throughout with noticeably very little people taking photos or having their phones out. During her last tour, she had requested that no one takes any photos, although she didn't say it this time, it seemed an unspoken rule that people followed.
Similarly to when she performed her last album, she didn't speak between any of the songs or introduce any. She played the entire set without addressing the audience but instead engaged with them through her lyrics. When the set finished with People's Faces, her and Uchima both bowed and finally, Kate spoke to the audience. She thanked everyone for sharing the experience with her and said how she will not be doing an encore as she doesn't believe in them, she had said what she wanted to say. The crowd cheered, appreciating her honesty. It felt like Kate had come to pass on a message to the audience and connect with them, rather than just to perform. She seemed as filled with emotion as everyone else in the room, the mutual feeling that this gig was a special experience.
Set List:
Europe is Lost
We Die
Ketamine for Breakfast
Grubby
Picture a Vacuum
Circles
Beigeness
Tunnel Vision
Keep Moving Don't Move
Brown Eyed Man
Three Sided Coin
I Trap You
Hold Your Own
Firesmoke
Holy Elixir
People's Faces