It all kicked off with a private party on the Friday night for the campers with DJ EZ, Sigala and Macky Gee, and wow did they start the weekend off with a bang. Sigala were a massive hit with the crowd playing one of their fan favourites 'Came Here For Love'
On Saturday we watched headliner Anne-Marie smash her second performance in Norwich this summer with some of her classics Rockabye and FRIEND.! Prior to Anne-Marie performance, we watched Jax Jones, Mabel and Not3s take the stage and earlier on in the day Kelvin Jones!
The final day of the festival, Sunday we had a throwback with Tinie Tempah headlining alongside Jonas Blue, Ella Eyre and Becky Hill who filled in for Stefflon Don who sadly had to pull her set due to illness but Becky Hill did not disappoint singing her hit song Gecko (Overdrive).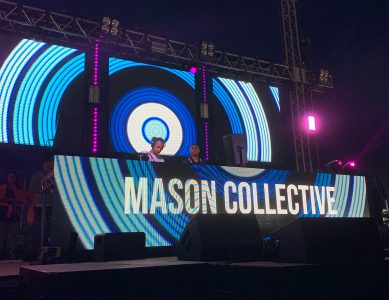 The atmosphere over the weekend for every single act was incredible. From mosh pits to singing along, the audience was so interactive and this didn't go unnoticed by the artists. When catching up with Mason Collective they said Sundown festival was one of their favourite festivals to play. Becky Hill also put a post on social media saying Sundown was her favourite festival.
My highlight from the weekend was definitely watching Not3s bring some of his hits to the main stage such as Aladdin and My Lover. I also loved witnessing the atmosphere during Mason Collectives set on The Nest Stage. Everyone was moshing and dancing, I didn't see a single person just stood around.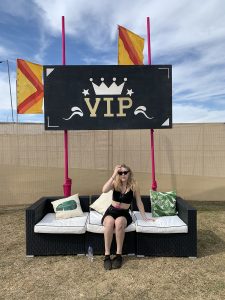 I would find it very hard to fault Sundown festival as they truly thought of everything, multiple stages, a huge variety of food stalls (even free McDonald's chicken nuggets for a small clip of you dipping a giant chicken nugget in sauce) and entertainment, there was never a dull moment.
An aspect of the festival I believe could be improved is a larger variety of musical genres across the various stages, especially on the Friday night opening party. This was very common feedback I was given when speaking to festival-goers. A lot of people said they would like to see a stage back in the woods area, which I can definitely agree with! They had plenty of friendly staff keeping the event running smoothly and safely.
The only thing that disappointed me when it came to staff was the lack of litter pickers on sight.
There is definitely a target audience which is mid/late teens but Sundown really does well with appealing to this audience but as someone in their 20's, I would love to see some more things appealing to people that age.
They do very well with having a mixture of well known and up and coming artists. They also have local acts hoping to break into the music scene playing in the VIP area. We love the idea of the VIP area. It's a chance for somewhere to relax during the festival madness and an area to have a chance of meeting some of the acts performing.
Sundown festival ended with a bang and left us all excited for next year! We were lucky enough to be able to sit down with some of the acts and chat about their experience with the festival, upcoming music and their advice for young musicians starting out.