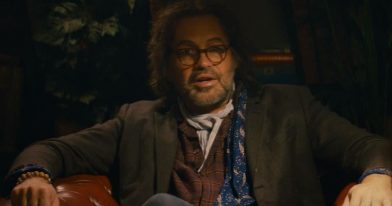 Last night at the Regent's Street Theatre in London, celebrities turned out in support of the Gold Movie Awards where Hollywood star Billy Zane took home the coveted Best Actor Award.
'Lucid' stars Sadie Frost, Sophie Kennedy Clark joined their co-star Billy Zane alongside director Adam Morse, who took home the Best Director Award. This wonderful film also won the Best Feature Film award.
Movie Name ➔ LUCID * Movie Synopsis ➔ Zel, a lonely young man's life changes when his enigmatic neighbour offers to help him overcome social anxiety. * Release Date ➔ * Copyright ➔ SUBSCRIBE so that we can grow real quick and that's not possible without you.
Other stars in attendance included Karen Bryson MBE, Kacey Ainsworth, Simon Merrells, Chizzy Akudolu, Tamla Kari, Victoria Yeates and Tamzin Merchant.
On the judging panel this year were Karen Bryson MBE, Kacey Ainsworth, Chizzy Akudolu, Kevin Guthrie, Elliot Cowan, Iain Glen, Simon Merrells, Victoria Yeates, Josh Herdman, Ben Lamb, Laura Main, Tamzin Merchant, Christina Cole, Charlotte Ritchie and Tamla Kari.
The event was created by Italian director Marco Recalchi, actor and producer Jason Matthewson and Antony Reolon in partnership with The Old Film Farm, Ikon Films and Skyup Academy. The GMA's exhibit the best in upcoming and seasoned filmmakers giving them a platform to showcase their work and be awarded in a professional setting.
GOLD MOVIE AWARDS 2019 WINNERS
BEST SPECIAL EFFECTS
"The Old-men" By Jordan Inconstant
BEST TRAILER
"Relentless" By Steven Murphy
BEST SCENOGRAPHY
"The Glorious Peanut" By F. De Loof and F. Labeye
BEST ACTOR UNDER 18
Felix Jamienson "The Ghost" By Garrick Hamm
BEST SCREENPLAY
"Million Loves in me" By Sampson Yuen
BEST EXPERIMENTAL
"Echo" By Victor Perez
BEST VIDEOCLIP
Mosh Ben Ari – "Away from Here" By Raphael Kadishzon
BEST FEATURE NO BUDJET
"The Red Resurrection" By Matt Long
BEST FEATURETTE
"Cotton Wool" By Nicholas Connor
BEST EDITING
"Folk Tales" By Paweł Łukomski
BEST WEB SERIES
"The Few" By Sam Bradford
BEST ANIMATION
"Sgt Stubby – an Unlikely Hero" By Richard Lanni
BEST DIRECTOR
"Lucid" By Adam Morse
BEST PRODUCER
"Octav" By Serge Ioan Celebidachi
BEST CINEMATOGRAPHY
"Yuna's Lunch" By Myeongjin Park
BEST DOCUMENTARY
"Cathedrals of Steam" By Jeremy JP Fekete
BEST ACTOR
Billy Zane "Lucid"
BEST ACTRESS 2018
Marisa Tomei " Laboratory Conditions"
BEST SHORT
"Ainhoa" By Ivan Sainz-Pardo
BEST FEATURE FILM
"Lucid" By Adam Morse
BEST OF THE YEAR
"Mother" By Rodrigo Sorogoyen
Pop Scoop founder and editor. Ex showbiz/tech editor at the Cyprus Mail. Former sub-editor at Archant. Former art director Sky TV. Co-founder of Kool Magazine and freelanced for the BBC, Channel 4, Warner Bros and the Cyprus Broadcasting Corporation.

Posted Under
Twitter
Join us on Facebook